"The State Must Provide: Why America's Colleges Have Always Been Unequal – And How to Set Them Right by Adam Harris. CCC.  259 pages.  $27.99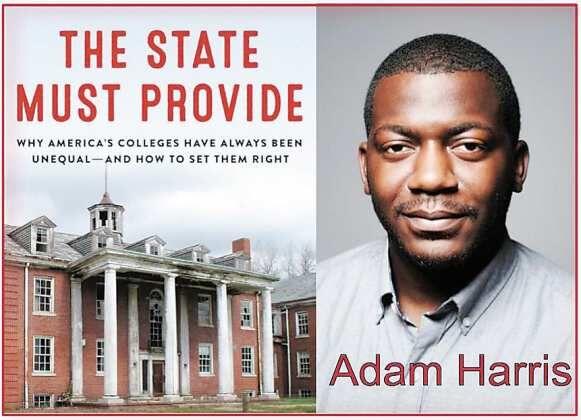 In "The State Must Provide," Adam Harris, a staff writer at The Atlantic and former reporter at The Chronicle of Higher Education, reminds us, throughout American history government officials have locked Blacks out of colleges and universities. States have segregated schools. Public and private institutions in the North and the South have done a woeful job – or no job at all – of integrating their colleges.
The Supreme Court decreed that separate could be equal, reversed itself, and then back-tracked. The federal government has not done nearly enough to make higher education accessible and affordable for qualified Black students.
Harris' narrative, which consists mainly of a review of legislation creating land grant universities and Historically Black Colleges and Universities and Supreme Court decisions, will be familiar to readers conversant with the history of higher education in the United States. The statistics he cites, however, should command everyone's attention.
The cost of equality
In the mid-1930s, the year Lloyd Gaines attempted to enter the University of Missouri Law school, 1,230 Blacks and 159,375 whites practiced law in the United States. In the mid-1940s, 75,000 Blacks were enrolled in the nation's colleges (out of more than 2,300,000 students in the nation's colleges); 85% of them in segregated institutions. The ratio of expenditures of whites to Blacks ranged from 3-1 in the District of Columbia to 42-1 in Kentucky.
In 1968, 783 Blacks were attending medical school, almost 70% of them at Howard University College of Medicine and Meharry Medical College. After the Supreme Court's decision in University of California Regents v. Bakke in 1978, several states in the North and West-California,
Washington, Michigan, Nebraska, Arizona, and Oklahoma – prohibited affirmative action, enrollment of Blacks in predominantly white institutions in the South stagnated, with nearly half of them attending junior colleges.
"The State Must Provide" is at its best when Harris reveals the price paid by the men and women who bore the brunt of struggles for racial equality.
In limbo for four years, Lloyd Gaines worked 12 hours a day, seven days a week, deeply concerned that he had become a burden to his family. "I am just a man," he wrote to his mother, "committed to fighting for 13 million Negroes… Sometimes I wish I were just a plain, ordinary man whose name no one recognized." When he won a partial victory in court, Gaines had disappeared. He was never found.
'Guinea pig' for integration
Born in Chickasha, Oklahoma, Lois Sipuel, Harris writes, graduated high school in 1941 as the valedictorian of her class and was on the honor roll at Langston University.
During two and a half years of litigation to enroll at the University of Oklahoma Law School, she recalled, "I had been the guinea pig, the slender, almost shy 'colored' girl from a small rural community who dared challenge the power and resources of the sovereign state of Oklahoma." Admitted in 1949, Sipuel realized "I was still a guinea pig."
Many decades later, Harris concludes, "Black students and colleges are trying to catch up." They still have a long way to go. In most states, appropriations for public colleges have been slashed, exacerbating "what were already systemic barriers." And, of course, many Black youngsters continue to be "relegated to under-resourced K-12 schools."
Harris' solution is reparations, to be paid by well-endowed colleges and universities, states, and the federal government, to Black colleges, Black students, and applied to debt cancellation and free tuition. Harris acknowledges, however, that "it is uncertain what repair for higher education's legacy could look like." He doesn't quite say it, but he surely knows that reparations does not now have the support it needs to get enacted.
Dr. Glenn C. Altschuler is the Thomas and Dorothy Litwin Professor of American Studies at Cornell University. He wrote this review for the Florida Courier.