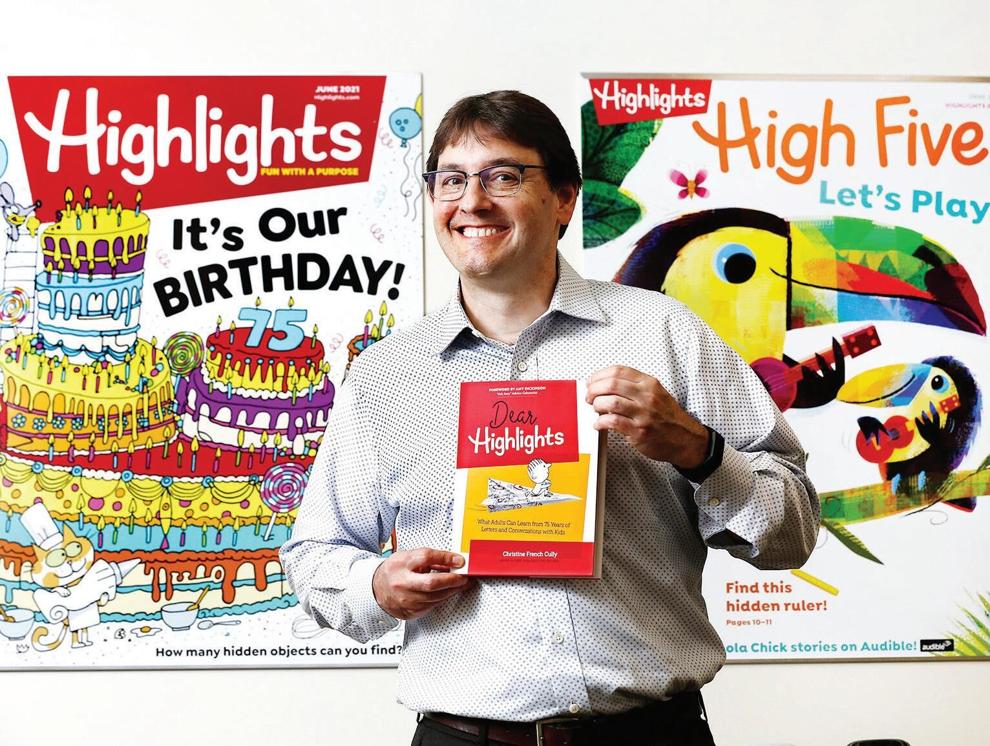 COLUMBUS, Ohio – When Cassandra Pritikin's daughters, Kimber and Taylor, were small enough to fit onto her lap, the three of them would read.
The three would sit under a tree — one child in Cassandra's lap, of course — and comb through the magazine, reading the sections and doing the search and finds. Sometimes, the girls would choose one of Highlight's craft ideas, and there went their afternoon.
These days, Kimber and Taylor are 13 and 17. They're too big to fit in their mother's lap, but never too big for Highlights.
Cassandra, 47, continues to have her father renew the family's subscription to Highlights magazine. And when they can find time, the three of them still sandwich together on the couch to do the famous search and finds.
Favorite of parents, kids
Highlights for Children, the Columbus-based magazine that began in 1946, is celebrating its 75th anniversary this year, and after all this time has managed to remain both relevant and beloved.
Garry Cleveland Myers and Caroline Clark Myers, late in their careers as educators at 59 and 61, wanted to create a magazine for both parents and children.
Kent Johnson, the current CEO of Highlights for Children and great-grandson of the founders, said the Myers had spent much of their careers focusing on what was then a new field of parenting and childhood development, and Highlights became a way for them to spread their knowledge.
Johnson, 52, said Highlights' first print run in 1946 made only 20,000 copies — all of which were sold and delivered door to door.
Now, he says, "We don't count as much just magazines, but we count all the sort of interactions of children with Highlights-produced content around the world. Last year was about 10 million kids interacting with our content across 40 countries."
But 75 years ago, the world was much different. There were no tablets, smartphones, YouTube Channels, or even TV shows aimed at children. And yet Highlights has still remained a staple of many people's childhoods, much like Kimber and Taylor.
Highlights has magazines aimed at kids from birth to 12 years old. But the company has now expanded to having an interactive website with games, articles, and even jokes. There are also Highlights apps, a podcast and a YouTube Channel.
Serious issues
Pritikin, who also read Highlights as a child, said the magazine has helped her parent in many ways.
She recalled a time when she was unexpectedly able to teach her daughters a lesson about bullying and how to get help, something she found hard to bring up organically.
"Highlights allowed you to be in a safe and comfortable environment to have that discussion because it kind of went along with the story you just read, so it doesn't feel forced," she said.
But there are things that Highlights has helped children deal with that are bigger than bullying: social justice, equity and inclusion.
And though Smith does not have children of his own, he is a big believer that children need a magazine like Highlights to help  guide them.
"You think about the George Floyd murder, you think about social unrest, and Black Lives Matter," Smith said, "and I think that parents and people in general expect Highlights, that has such an influence on young people's lives, to speak up."
Dear Highlights
While the CEO does have a lot of influence, at Highlights, the children have just as much of a voice. Highlights has always given children a platform to ask important questions through the Dear Highlights column.
Dear Highlights is in every issue of the magazine. Children can write to Highlights with any question they might have, and editors will write them back. Highlights writes back to every single child who writes to them, and some letters may even be published in the magazine.
Johnson said the Dear Highlights column has always been an integral part of the magazine.
The questions can get deeper than friends at school, though. They also can be about tragedy, coronavirus, social and emotional health, mental health issues, and social justice. All things that are hard questions to ask about — and are equally as hard to answer.
Anniversary book
According to Johnson, though, the editors at Highlights are experts in child development, and Johnson said if there's ever a question that Highlights can't answer on their own, they have multiple experts on call.
The Dear Highlights columns have been so crucial to the growth and mission of the magazine that Highlights will be publishing a book titled "Dear Highlights," that includes a collection of 300 pages of Dear Highlights letters as well as the answers that were sent back.