"The Rope: A True Story of Murder, Heroism, and the Dawn of the NAACP'' by Alex Tresniowski. Simon & Schuster. 322 pages. $28.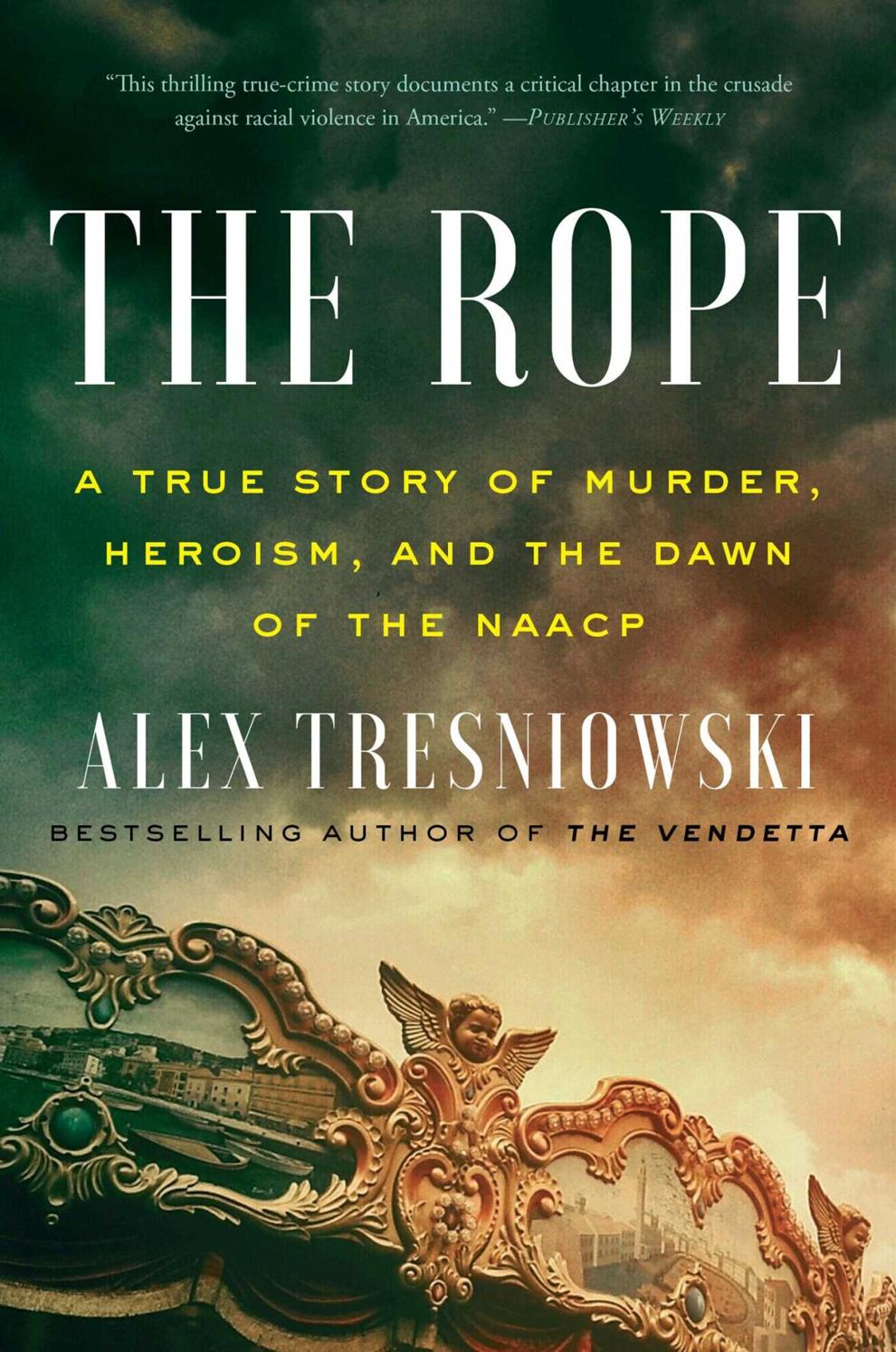 SPECIALTO THE FLORIDA COURIER
On Nov. 13, 1910, Tom Williams, a 40-yearold laborer and amateur boxer, who had spent time in state prison for larceny, drunkenness and disorderly conduct, was arrested, jailed, and held without bail as a suspect in the brutal murder of 10-year-old Marie Smith, a schoolgirl in Asbury Park, New Jersey.
A search of his dilapidated house "in the colored colony" of town yielded a shirt, a towel, and a blanket stuffed in a barrel, which appeared to be stained with blood.
On Dec. 4, three detectives entered Williams' cell.  They questioned him for hours. Again and again, Williams insisted he had nothing to do with the crime. The detectives, Williams would claim, gave him "the third degree," doing "pretty much everything except kill me."
As the interrogation ended, detective B.F. Johnson screamed, "You know you killed that girl. This woman swears she saw you."  "She didn't see me. Nobody seen me," Williams replied. "I know nobody saw me. Nobody seen me do it."
Realizing the import of his words, Williams laughed. "I guess it won't make much difference if one more nigger gets it," he said. It only means one less nigger."
Unconventional techniques
Tom Williams was not the only suspect in the murder of Marie Smith.  In his first murder case, Ray Schindler, manager of the Burns Detective Agency, spared no effort in getting him to incriminate himself.
In "The Rope,'' Alex Tresniowski, a journalist for Time and People magazines, and the author, among other books, of "The Vendetta,'' describes Schindler's unconventional investigative techniques, including a sting operation in which an undercover agent (or "roper") enters a suspect's life to gain his trust and elicit information about the crime.
Over-the-top prose
Tresniowski also sets his true-crime thriller in the context of turn of the 20th-century racial violence, the anti-lynching crusade of Ida Wells, and the birth of the NAACP.
"The Rope'' is chock-full of memorable characters.  And Tresniowski knows how to keep readers in suspense.  That said, his book is not without flaws. Although, alas, "The Rope'' does not include footnotes or a bibliography, Tresniowski clearly relies heavily on Schindler's self-serving account of his exploits.  And Tresniowski's prose is often over the top.
Schindler's eyes, he writes, "gave him the eerie intensity of a magician, and it was not
hard to imagine that he wasn't simply looking at you but somehow into you."
Schindler "understood that the most imbalanced of souls, the most unfathomable of crimes, would require the deepest penetrations into the darkness of a mind."
The NAACP's role
More important, "The Rope'' baits and switches.  Serving principally to remind readers that Jim Crow violence occurred in the North as well as the South, for example, Ida Wells' civil rights activity is only tangentially connected to events in Asbury Park.
The NAACP is a minor player as well. A fledgling organization in 1910, the NAACP had monthly expenditures of $265.  Its National Legal Committee was not yet fully in place.
In January 1911, the NAACP sent two lawyers to represent Tom Williams, who remained in jail "under no charge and under universal censure," in his habeas corpus hearing. The judge ruled he was free to go, but Williams was promptly re-arrested for voting twice in a gubernatorial election held one day before Marie Smith's murder.
The NAACP lawyers did not challenge the new charge. Williams could not make bail and returned to jail.
1954 influence
After completing his account of the Asbury Park case, Tresniowski returns to the NAACP.
By 1920, he reports, the organization had opened 300 branches and recruited 90,000 members.  It reached the peak of its influence in 1954 with the unanimous Supreme Court decision in Brown v. Board of Education, mandating the desegregation of public schools.
These days, Tresniowski reports, the NAACP, with 500,000 members around the world and a $25 million annual budget, continues to fight for equality and racial justice.
But that, of course, is another story.
Dr. Glenn C. Altschuler is the Thomas and Dorothy Litwin Professor of American Studies at Cornell University. He wrote this review for the Florida Courier.