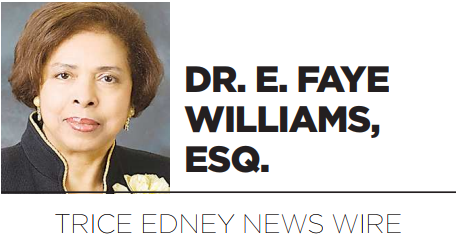 The leaders and members of the National Congress of Black Women, Inc. will be honoring Michael K. Williams on Sunday, Sept. 19 at our 37th Annual Awards Ceremony.
Our theme for this year is "Through It All, We're Still Standing." This theme was chosen because like other organizations, we have had many tragedies.
The coronavirus has negatively impacted many of our families. Several of us have lost a parent or another close relative or friend. I am proud of our members who never stopped serving others.
Good Brother honoree
As we planned and prepared for our 37th Annual Awards Ceremony, we chose to honor Michael K. Williams as one of two of our Dick Gregory Good Brother awards Our other awardee in that category is B. Michael who is an extraordinary clothing designer.
I knew him as the designer for my good friend Cicely Tyson who was among the many who left us in 2021. She was not just our friend, but a friend to many throughout the world.
Now, there is Michael K. Williams who was chosen to be one of our honorees, but he, too, was a friend to the world. Our hearts were heavy when we received the news of his passing a few days ago. Michael had pre-recorded his acceptance remarks and they were among his last words. His words were so touching that we'll share them with the world at our Awards Ceremony and I pray that his words will be as touching to someone as they were to me.
Our awards ceremony chair, Dr. Theresa Buckson was one of Michael's friends and she said, "Michael will be honored with NCBW's Good Brother Award for his commitment to philanthropy, community involvement and his award-winning accomplishments as an actor."
A tragic loss
It is true that the good often die young. Michael was only 54 years old, working on so many issues to better our community. His loss is a real tragedy.
His loss is a wakeup call for all of us to pay attention and lend a hand to those who are showing signs of depression.
Michael was a kind person who exemplified community involvement and was an exceptional actor and activist. We extend our heartfelt condolences to his family, friends and loved ones.
He will be missed for the great work he did and the work he'd planned to do.
Dr. E. Faye Williams is president of the National Congress of Black Women and host of "Wake Up and Stay Woke" on WPFW-89.3 FM.