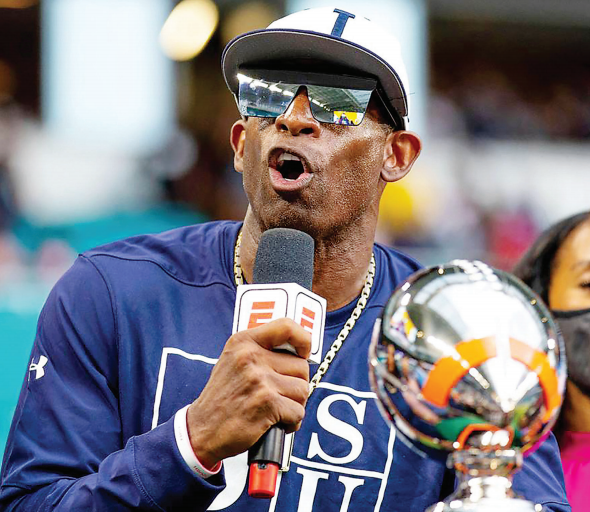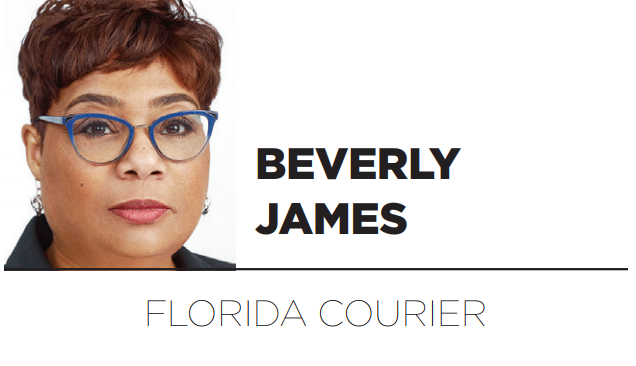 There is an old tale about Blacks that has been passed down for generations. Shortly after slavery ended, a Black businessowner in the South noticed that, even though his general store was located in his community, most of his neighbors traveled further to buy ice from a white store.
The Black man stopped a friend one day and asked why he refused to buy ice from him. The neighbor responded, "The white man's ice is colder."
Hundreds of years later, many of us believe that we are beyond this type of internalized racism. But the recent move by football legend Deion Sanders proves otherwise.
Sanders, who coached the Jackson State University football team to three winning seasons, recently left for the head coaching position at the University of Colorado.
Sanders' move quickly divided the Black community, with some rushing to defend him, while others see it as a betrayal.
Folks—white and Black—will agree that "Prime Time" was more than a football coach at JSU. Sanders enforced a strict code of conduct, not only guiding his players on a field, but also acting as a father figure, a mentor and example of how to be a man.
For many on the team, this was the first time they experienced the nurturing and correction from a Black male.
He brought more financial backing via exposure, more TV time, top recruits and, most importantly, hope, to all HBCUs. The JSU Tigers compiled a 27-5 record and won back-to-back Southwestern Athletic Conference (SWAC) championships.
Sanders brought excitement to JSU—a football giant that was staggering to a slow death from a lack of resources, decaying facilities and low-level recruits.
He swaggered in with promises of a new day for all HBCUS by assuring that he would encourage nationally ranked players to make Black colleges their #1 choice.
Sanders the Savior?
JSU paid Sanders about $300,000 a year, half of which the coach offered to donate back to the college to help pay for improvements to the football facility.
The Mississippi college, once a football powerhouse, had fallen on hard times and needed a savior. And it seemed it had found one in Sanders.
According to the coach, the money wasn't important. The NFL Hall of Famer and two-time Super Bowl winner said, "It's a match made in heaven," Sanders said. "This is a God move.
"When they pulled up today, I said, 'you know it's gotta be God for me to leave all this.'"
Though Sanders had only stayed for three seasons, defenders say the move to Colorado will allow Sanders to grow as a coach and take more Black coaches with him to the top, maybe even the NFL.
After all, Sanders is doing what any coach in his right mind would do— leaving a smaller school with fewer resources in a smaller conference for a larger institution with far better resources, facilities and access to a deeper bench. And a $5 million annual salary.
According to supporters, Sanders doesn't owe anyone undying loyalty. In fact, his decision to leave might even work out better for Black players and coaches.
"I'm sure he is going to open the door for more minority coaches to be hired at Power Five Football programs. I don't see Coach Sanders being stagnant at any school, but I do see him being a head coach in the NFL one day. Isn't that the goal: To be the best you can be?" said Gary Jones, of VHM Magazine & Sports.
A dream deferred
Detractors say Sanders' move to Colorado reveals that he'd always planned to use an HBCU as the first step to a career with a predominantly white institution.
They point out that he wasn't receiving offers from Division 1 schools, not even the bad ones like Colorado, which has not had a winning season since 2005, before JSU took a chance on him.
And even though Sanders mentored his players, providing them with the structure and positive reinforcement they badly needed, custom suits donated by Men's Wearhouse and NFL great Michael Strahan, a sense of pride in themselves and their HBCU, he played them and all Blacks with promises he had no intentions of keeping.
Sanders is known for being over the top, and his claims that God sent him to JSU make the devout Christian sound "sometimey" as Black people would say.
This is what ESPN's Bomani Jones had to say: "I wouldn't have come in in the first place and said that God sent me here to fix HBCUs and God decided that in the middle of it, you were supposed to leave.
"The thing I've said is maybe God wants 10% of 5 mil and not 10% of 375 [hundred thousand dollars]. If God can do math, I can understand why it is. He sold a dream and then walked out on the dream. People have the right to be critical of that,'' Jones added.
It's clear that JSU and any HBCU would never be enough to keep Sanders indefinitely. He's made it clear that he wants to play with the big boys— the ones with more money, more prestige and access to better players. Or maybe Sanders just thinks the white man's ice is colder.
Beverly James, a Howard University alumna, is an Atlanta-based writer with more than 30 years of experience in covering education, prep sports and human interest stories.