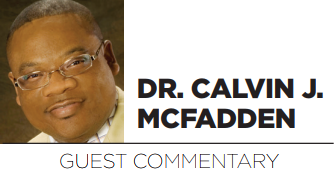 It was a lifelong dream of mine to become president of my alma mater, Bethune-Cookman University. Unfortunately, that has not become a reality.
With initial mentoring from the late great Dr. Oswald P. Bronson, Sr., I prepared myself academically and professionally for the task, gaining experience as a college professor, administrator, and pastor. But more than my personal desire and aspiration, my heart breaks for this jewel of HBCUs in its current state.
A legacy tarnished
Never in a million years would I have dreamed that university leadership would allow the legacy of our founder, Dr. Mary McLeod Bethune, to be tarnished due to ego, power plays and sheer incompetence.
B-CU has educated thousands of alumni who truly 'entered to learn and departed to serve.' These accomplished individuals make up the body of the National Alumni Association.
While there are many flaws and areas of correction of the NAA (no organization is perfect), the Association has worked tirelessly to recruit students, raise funds, be ambassadors of B-CU, and, at a minimum, have input for the sustenance of the institution.
To have that commitment thrown away is a slap in the face to those who have given their lives to this work and lacks the integral partnership needed to advance the mission of B-CU.
What alumni should do
In full transparency, I used the NAA of B-CU as a model to formalize the alumni association and not only did the college recognize the association's intrinsic value, the Board of Regents of the State commended its formation, and the association was lifted as a best practice among the 12 other community colleges.
To know that the B-CU NAA has been discredited and there is an attempt to overthrow it while an association at another college after which it was fashioned is thriving is abhorrent, an abomination, embarrassing and downright shameful.
To echo one of my favorite fellow B-CU alums and top-tier professors, Dr. Shelia Flemming, the B-CU BOT should expeditiously consider the following:
Strongly consider their actions concerning the dismantling of the NAA, specifically as it relates to the institution's upcoming reaccreditation visit. The BOT's sole employee is the president of the university and SACSCOC looks unfavorably upon Boards with overreaching authority into the management of the institution.
If not careful, B-CU will find itself on pagain or, in a worst-case scenario, being sanctioned with much more dire consequences.
Rather than seeking to dismantle a decades-long school-affiliated organization, make attempts to right the wrongs committed by both parties – the BOT and NAA – and make a concerted effort to ensure the NAA remains a viable partner in the life of the University.
Not doing so will cause irreparable damage to the future of our beloved B-CU. The gospel of Luke 12:48 reminds us, "To whom much is given, much will be required."
Finding the right leader
Immediately launch a national search for a qualified executive leader who is skilled in all areas needed to bring healing and restoration to B-CU. I would also add that though it is not absolutely necessary, the BOT should hire a president who loves HBCUs, and more specifically, B-CU.
Just because persons have graduated from or had leadership experiences at PWIs does not mean they are well-suited for the unique challenges and culture of HBCUs.
Moreover, there are several alumni who are well-equipped for the task and who can work with untied hands to restore BCU to its former glory while also infusing current best practices that will ensure B-CU is alive and well for the next 100 years.
As a man of faith, I truly believe that B-CU's best days are yet ahead of it. But a change in direction is desperately needed and it starts with the BOT AND the NAA working together. In my humble opinion, Drs. James Colston, Richard V. Moore, Oswald P. Bronson, Sr., Trudie Kibbe Reed, and most assuredly, Mary M. Bethune would have it no other way.
Calvin J. McFadden, Sr., Ph.D. is a 1996 Bethune-Cookman graduate. He is a former national chaplain of the NAA, and is a pastor, educator and higher education consultant.