FROM STAFF REPORTS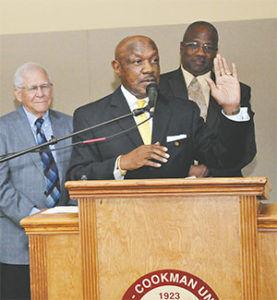 The NAACP Florida State Conference is calling on Bethune-Cookman University (B-CU) President Dr. Edison Jackson and Board Chairman Dr. Joe Petrock to resign effective immediately.
The NAACP, B-CU alumni, students as well as Daytona Beach residents have expressed outrage over the university's decision to have U.S. Secretary of Education Betsy DeVos as its commencement speaker on Wednesday, May 10.
The invitation to DeVos to speak at the HBCU's commencement quickly spiraled into a political battle that attracted national media attention.
A statement released Monday (May 8) by Adora Obi Nweze, president of the Florida NAACP and a member of the National NAACP Board of Directors, called on Jackson and Petrock to resign.
"Since our initial public outcry last week, multiple allegations have surfaced including faculty intimidation demanding their silence or risk termination and threats to students by potentially withholding earned degrees and fines for freedom of expression, the statement reads.
"If these allegations are proven, this contrasts the public statements of university administration who opposes suppressing voices by welcoming U.S. Education Secretary DeVos but lends indirect support to these actions against faculty and students.''
The statement continues, "We have been in contact with several attorneys around the state, and have received support from numerous including the T.J. Reddick Bar Association, who has agreed to represent faculty and students who peacefully protest and are subject to retaliation by the university.  Our partners have reviewed the university student code of conduct, and it does not contain any prohibition on peaceful protests and freedom of expression. The NAACP Volusia County Daytona Beach Branch and several attorneys will be on the ground monitoring this situation.''
"We still believe Secretary DeVos should not speak at commencement and that she has no record supporting an honorary degree by Bethune Cookman University. With the recent comments of President Trump suggesting federal funding for HBCU's is unconstitutional; this validates our view of a horrible decision by the university inviting Secretary DeVos, who still has not pledged to drastically increase funding for all historically black colleges and universities.
In a Friday (May 5) statement, Trump implied that funding for HBCUs was unconstitutional.
Politico reported that in a signing statement on the $1.1 trillion omnibus government spending bill, Trump singled out the Historically Black College and University Capital Financing Program as an example of provisions in the funding bill "that allocate benefits on the basis of race, ethnicity, and gender."
Trump said his administration would treat those programs "in a manner consistent with the requirement to afford equal protection of the law under the Due Process Clause of the Constitution's Fifth Amendment."'
DeVos has been harshly criticized among advocates of HBCUs as a consequence of a press statement she issued during this year's Black History Month observance in February.
The statement read, in part, "…we must be willing to make the tangible, structural reforms that will allow students to reach their full potential. HBCUs…started from the fact that there were too many students in America who did not have equal access to education…
"HBCUs are real pioneers when it comes to school choice. They are living proof that when more options are provided to students, they are afforded greater access and greater quality."