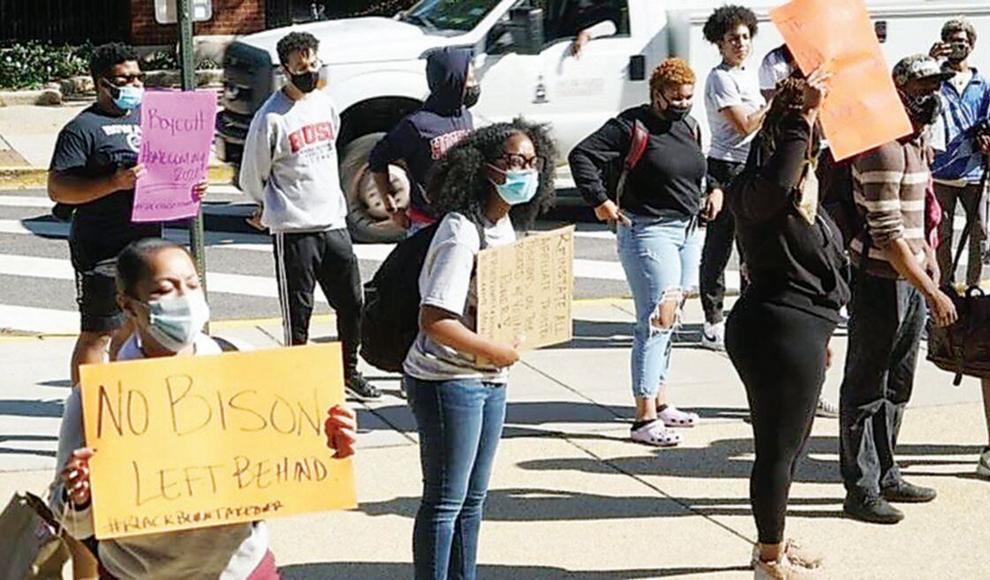 There are many reasons why students will choose to attend an historically Black college or university (HBCU). One reason could be tradition, another could be family legacy or academics. For Chandler Robinson, it was for the networking.
"I decided to come to Howard just because they're known for their connections," the 18-year-old freshman psychology major told the Florida Courier. She also added that Howard University gave her the most money in scholarships.
But connecting with her fellow Bisons over a campus-wide protest is probably one of the last things the Dover, Delaware native thought of when meeting new people.
At most HBCUs, homecoming week is usually the cream of the crop and highlight of the year. Both students and alumni spend months planning for the epic weekend.
Mold, rats and mildew
But at Howard, homecoming is the last thing on the mind of Robinson and many other Howard students. Howard's home-coming activities were held from Oct. 16 to 24. 
For the past two weeks, students have been demonstrating against poor housing and lack of student representation on the university's board of trustees. And the housing situation is not your typical broken air conditioners and jammed closet doors. 
"We have mold in our dorms," Robinson said. "We also have rat issues in not only our dorms but in our dining hall." 
Robinson arrived on campus on Aug. 15. She said the air filters in the rooms were not changed before students arrived on cam- pus. As a result, the accumulated dust and mold have affected her health and sent another student to the hospital.
"So, the dust has come in through our vents on top, and the unchanged air filters have made me sick because I have severe allergies," Robinson explained. "I've been trying to take vitamin C and elderberry and all that type of stuff just to combat it. But my neighbor next door to me actually had to go to the hospital for mold exposure. She was coughing up blood and things of that nature."
Other housing issues Robinson said she and other students have dealt with have been lack of internet access. Robinson said between Aug. 24 and Oct. 5, she had no Wi-Fi and was five weeks behind on her classes as a result.
Howard is currently only offering virtual classes due to COVID-19 precautions.
"Thankfully, my professors have been understanding because they're kind of in the same boat as us," she said.
#BlackBurnTakeover
The demonstrations are being led by the HBCU coalition group, The Live Moment. The organization has a list of immediate demands, which includes a town hall meeting with Howard president, Dr. Wayne Fredrick; reinstating affiliate board positions; and a detailed housing plan to fix the current issues and protect future students.
Robinson joins hundreds of students who have been documenting their experiences on social media using the hashtag #BlackBurnTakeover, named after the campus' student center, where Bisons have set up shop and protesting since Oct. 12.
Robinson's videos of the protests and housing dilemma have gone viral on TikTok.
"There have been so many protests in the past," Robinson said, referring to the history of students protesting poor housing conditions. "People back then in those protests, they didn't have access to platforms that we have now. And because social media moves so quickly and word can spread so fast about protests or about the conditions here at Howard, I was thinking that this is what I need to do. I need to use my platform to speak up."
That has garnered attention is the Another aspect of the protests growing number of tents outside of the Blackburn center. Nick-named by the demonstrators as Tent City, at least 30 tents have been setup outside, with three to five students in each one.
Student demonstrators have been sleeping overnight in the tents in the cold Washington, D.C. temperatures. Some alumni are also sleeping there in solidarity.
"It's a very big family out there," Robinson remarked.
Homecoming boycotts
Since the protest, most students have boycotted homecoming. Celebrities such as Gucci Mane joined in solidarity. The rapper and his group, 1017, were supposed to headline the home- coming concert. Instead, the Live Moment constructed their own version of homecoming called Blackburn Homecoming.
The festivities were supposed to include performances from the band and Divine 9. But Robinson said the university put a halt to those activities. Emails were allegedly sent out to organizations and administrations threatening expulsion and firing of anyone who participated in the protests.
"RAs [resident assistants] would risk losing their jobs, people in the band, they can't perform at the protest, so sometimes they performed near us," Robinson shared. "And athletes can't be seen at the protest; band members, majorettes, things of that nature can't be seen at the protest or identified at the protest ."
Administration responds
On Oct. 26, Frederick released a statement saying that the university had shared detailed housing plans and called for an end to the protest.
"The provost and University's general counsel met with leaders of the student protest and their legal counsel and engaged in a discussion regarding the path forward," Frederick stated. "As conveyed at that meeting, the University is willing to continue engaging in substantive conversations with student protesters and leaders regarding their expressed concerns. The occupation of the Blackburn center must end."
The week before, the board of trustees released a statement stating that they recognize the students' efforts and are "committed to helping these students and working with the administration to ensure adequate on-campus housing conditions."
Staying a little longer
While some of Robinson's classmates have decided to transfer, Robinson says she intends to stay a little longer in the 'good trouble' and keep fighting the good fight. But despite the troubles, there's still love.
"I want to stay just because I want to see this protest through," she said. "I want to change Howard because I think that Howard is a great school. As long as we can have transparent and open conversations with our board of trustees and with our administration, I think we have the bones again, to be a great school, to have a great community because we have great students."
Robinson adds that her parents are upset about the situation, but they stand behind her decision on whether she chooses to stay or transfer.
"God forbid this protest changes nothing, or I find mold in my room, I will be transferring," she said.
Follow the Live Moment on Instagram for the latest updates.