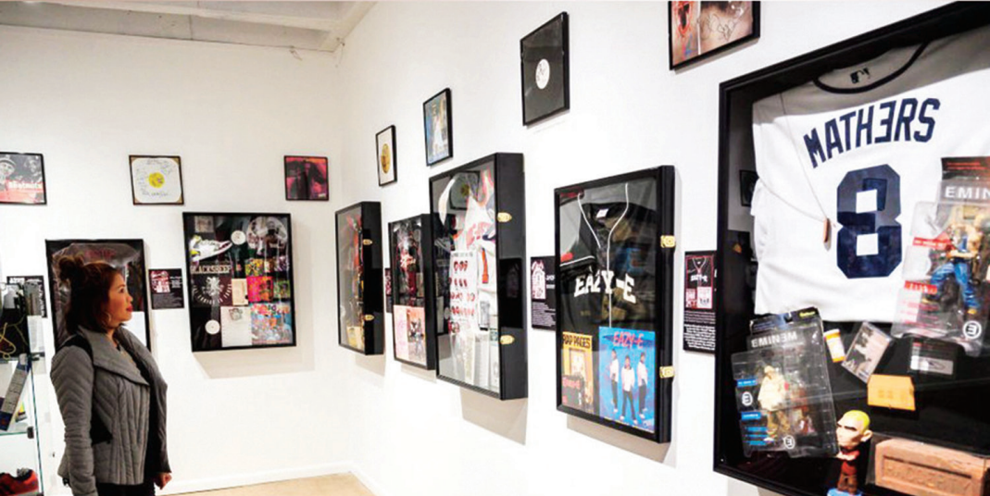 On March 11, the National Hip-Hop Museum of DC's Grand Induction Ceremony was held honoring CL Smooth, Special Ed and Dres of Black Sheep.
The event kicked off at 4 p.m. with a live broadcast of "Master Gee's Theatre," the museum's executive director's weekly SiriusXM Show, where guests reminisced about the legendary MCs they grew up listening to.
Washington, D.C. Deputy Mayor John Falcicchio read a proclamation at Mayor Muriel Bowser's request.
"We felt like we would complement what was going on in New York down here in the DMV," said Master Gee, whose real name is Guy O'Brien. Gee counts as one of the three members of the hip-hop trailblazer group, The Sugar Hill Gang, whose seminal hit "Rapper's Delight" was the genre's first hit.
"We had to put something in effect that would last over generations," Gee said. "Because we are the first commercially successful hip-hop group in the world, it made sense from a business standpoint for me to put those skills and abilities towards preserving the legacy of what we're doing."
Old school honorees
As one-half of the classic hip-hop duo Pete Rock & C.L. Smooth, C.L. Smooth was responsible for penning some of hip-hop's timeless classics, including "The Creator," "Straighten It Out," "Take You There" and the landmark "They Reminisce Over You (T.R.O.Y.)."
According AllMusic.com, the rapper's smooth voice, effortless flow, and conscious lyrics were easily recognizable signatures of Smooth's style, "and with Pete Rock's soulful and funky backing, they distinguished themselves as a formidable duo even amid the flourishing of many other acclaimed alternative rap groups in the early "90s."
Smooth, born Corey Penn, was raised on his grandparents' jazz music. Growing up in Mount Vernon, New York, his grandfather always used to find ways of integrating jazz into many aspects of his daily life.
"Thus, it was only natural that Smooth would gravitate toward his literal soul partner, Pete Rock, a friend whom he met in grade school."
Special Ed, whose real name is Edward Archer, is best known for hits like "I Got It Made" and "I'm The Magnificent."
"Though he was only 16 when it was released, the rhymes were mature and supremely confident; over half a million sales confirmed his arrival," according to AllMusic.com. "There was a more romantic discourse evident on the follow-up, which while less abrasive, was still an exemplary introduction."
According to MusicianGuide. com, Black Sheep became part of music's hip-hop landscape in 1991 with the release of their debut album, "A Wolf in Sheep's Clothing," who's single "Flavor of the Month," sealed the duo's popularity.
At the time of their debut, Black Sheep were one of many New York City-based hip-hop and rap groups attracting national attention; Cypress Hill, Naughty by Nature, Brand Nubian and L.O.N.S. had all paved the way for Black Sheep's appearance.
Black Sheep's members, Dres, whose real name is Andres Titus, and Lawnge – two friends raised in New York City – met in 1983 in Sanford, North Carolina.
Dres grew up in the Astoria housing projects in Queens and by the time he finished high school, he had served time in jail. This early brush with the criminal justice system convinced Dres not to glorify crime in his music, MusicianGuide. com reported.
Largest hip-hop collection
Master Gee noted that the Universal Hip Hop Museum opening in New York next year and headed by executive director Rocky Bucano is huge for those who love hip hop and others who may not.
He said his museum is in D.C. because "that's the home of all the big museums."
According to Gee and other officials, the Hip Hop Museum of DC is a "pop-up experience," that serves as a "traveling art, food, fun, broadcasting, DJ, producer, performance, graffiti, B-boy, music concert experience that encompasses all aspects of hip-hop music, history and culture."
The National Hip-Hop Museum opened "The Hip-Hop Shop," its new flagship retail and event space, in January 2023. This 6,000-square-foot facility, located in the heart of Dupont/Adams Morgan, features the largest selection of hiphop memorabilia on the East Coast, including vintage apparel, sneakers, toys, vinyl and art.
Gee said Rapper's Delight opened up doors that he'd never previously envisioned. "Rapper's Delight is my license to the world," he explained. "It's my permit, my passport to give me the ability to do what I do."