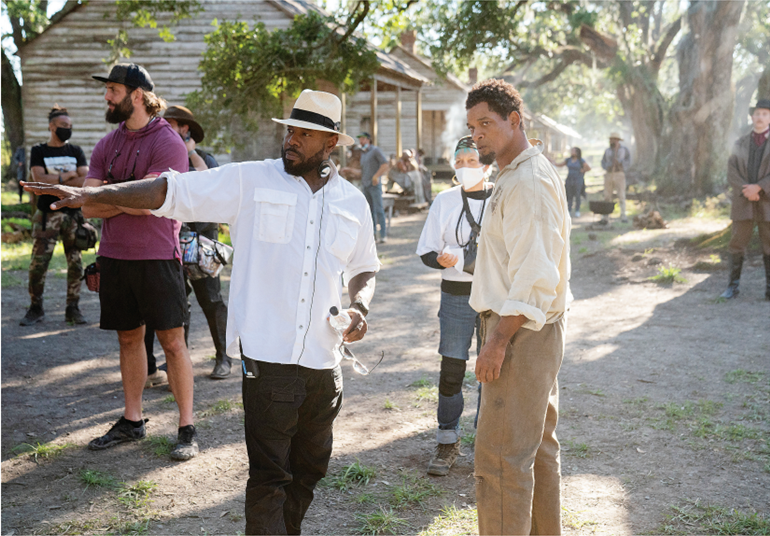 Antoine Fuqua thought the worst was behind him.
Early this year, the director of such films as "Training Day" and "The Equalizer" had just finished shooting his most ambitious movie yet, the period action thriller "Emancipation."
The story of an enslaved man named Peter (Will Smith) who undertakes a perilous escape through the Louisiana swamp to find freedom and reunite with his wife and children after Lincoln's 1863 Emancipation Proclamation, the film had taken a considerable physical and emotional toll on the filmmaker.
"I'm still having PTSD from the swamps," Fuqua told the Los Angeles Times over Zoom earlier this month from Italy, where he is shooting "The Equalizer 3." "We had COVID, we had a hurricane, we had a tornado — it was unbelievable. I talked to Martin Scorsese, and he said, 'Antoine, we must have amnesia. We keep going back to the pain.'"
Then, on the evening of March 27, Smith struck comedian Chris Rock in the face in front of a stunned audience of millions at the Academy Awards over a joke about his wife, Jada Pinkett Smith — before going on to win the lead actor award for "King Richard" less than an hour later.
Suddenly, Fuqua, who was in postproduction on "Emancipation," found himself dealing with a whole new kind of pain.
In the wake of the slap, with Smith's megawatt public image damaged, questions swirled over the fate of "Emancipation" amid reports that Apple Original Films, which spent a reported $120 million to produce the movie, was considering pushing back its release in an attempt to buffer it from the controversy. Ultimately, Apple chose to push ahead and is set to open the film in select theaters on Dec. 2 ahead of its streaming debut on Apple TV+ a week later — straight into the heart of Oscar season.
In recent weeks, in an effort to build buzz and shift the narrative around the film, "Emancipation" has had well-received screenings in Washington, D.C., in conjunction with the Congressional Black Caucus Foundation's annual conference, and at a private gathering in L.A.  hosted by Smith  and attended by several high-powered Black entertainment figures including Tyler Perry, Dave Chappelle, Rihanna and Kenya Barris.
The film's backers hope "Emancipation" can stand on its own artistic merits and the importance of its subject matter. With a script by Bill Collage, the film is based on the true story of a man known as "Whipped Peter," whose scarred back, captured in an 1863 photograph, became one of the most enduring and impactful images of the horrors of slavery.
Oscar nomination possible
With memories of Smith's violent, profanity-laced Oscar-night meltdown still fresh, however, it remains to be seen how "Emancipation," which co-stars Ben Foster as a racist bounty hunter on Peter's trail, will fare as awards season heats up.
Although Smith has resigned from the Academy of Motion Picture Arts and Sciences and has been banned from attending all academy events for the next 10 years, he could still be nominated both as the film's lead actor and, should "Emancipation" land a best picture nod, as one of its producers.
The L.A. Times spoke with Fuqua about the importance of continuing to grapple with the history of slavery, the challenges of mounting a major Hollywood production in alligator-infested swampland and navigating the fallout from the slap heard 'round the world.
Q: When this project first came to you, what resonated with you about the script? Had you ever considered taking on this chapter of history before?
A: Not really. There are stories about slavery that I have been interested in, but I'd never really had that North Star, that heartbeat that really made me want to do it. Because I knew it was going to be painful. For me, it was, if I can find a story that every human being — Black, white, whatever — could relate to, then it's worth telling.
Q: Making a movie that reckons with the history of slavery is a huge responsibility. How did you wrap your mind around the enormity of it, particularly as a Black filmmaker?
A: Once I commit, I'm just focused on the task. But I knew every day I was going to deal with that.
I remember the first day Will tried on the collar around his neck; it got stuck, and you could see in his eyes what was happening. The idea of that, even for a few seconds, is almost unbearable for us. I got inside the wagon, and I put the chains on myself, just to see. It's like a different world. I remember telling [my director of photography] Bob Richardson, "I want it to feel like it's almost like another planet." Yet it's so real in our history.
Q: Smith said in an  interview last year  that he resisted doing a movie about slavery earlier in his career because he said he didn't want to "show Black people in that light." What were your conversations with him about where "Emancipation" sits in relation to previous TV series or movies that have tackled slavery?
A: Will responded to the love story and to the inspirational part of it. To tell this type of story about this man who's still inspiring us today, it can't be about revenge, and it can't be about blaming anyone. It's about just trying to find the truth in what happened. That's what we talked a lot about.