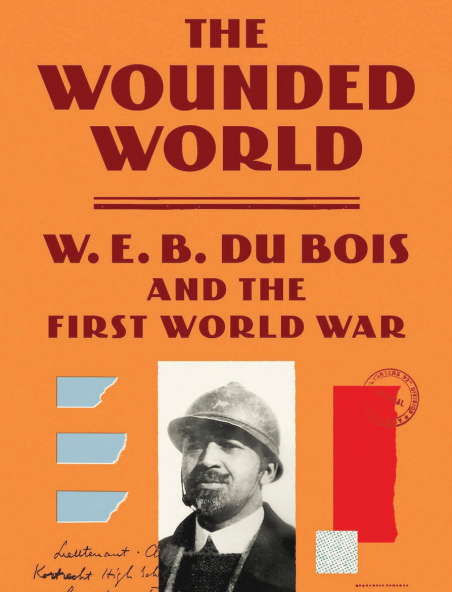 "I am American Negro," W.E.B. DuBois declared, "and white America, with saving exceptions, is cruel to everything that has Black blood.  Black people, he added, "shall never rest, we shall never cease to agitate, until we have received from the world what we have in such yeomanly fashion rendered – fair play."
DuBois was one of the most influential scholars, public intellectuals, and activists in African American history. Throughout a life which spanned almost 100 years, DuBois was the principal critic of Booker T. Washington; leader of the Niagara Movement; organizer of Pan-African Congresses; author, among many other books, of "The Philadelphia Negro;" "The Souls of Black Folk;" and "Black Reconstruction;" and editor of The Crisis, the journal of the NAACP.
In "The Wounded World," Chad Williams (professor of History and African American Studies at Brandeis University and author of "Torchbearers of Democracy: African American Soldiers in the World War I Era") provides an informative account of the second half of DuBois' life. Williams' primary focus is DuBois' decades long, and never completed history of the experiences of Black soldiers during World War I.
Along the way, Williams takes the measure of a man who was at once brilliant, ambitious, courageous, competitive, and combative. And he illuminates the efforts of Blacks to secure their rights to citizenship in a nation where racial discrimination remained entrenched.
In "Closing Ranks," an editorial published in The Crisis in July 1918, DuBois supported the decision of the U.S. government to declare war on Germany. German power, he wrote, "spells death for the aspirations of Negroes and all darker races for equality, freedom, and democracy." 
DuBois urged African Americans "to forget our special grievances and close our ranks, shoulder to shoulder with our white fellow citizens."
According to Williams, DuBois wrote the piece because he feared a less patriotic stance would provoke the government to shut down the journal for violating the Sedition Act.  DuBois hoped, moreover, to be appointed a captain in the Military Intelligence unit of the War Department.
The editorial produced a firestorm of criticism. The Washington D.C. branch of the NAACP denounced DuBois for "pretending or professing ignorance or indifference to indignities and injustice continually heaped on us." 
DuBois soon concluded that his faith in the transformative power of war had been misplaced. Instead of a war to make the world safe for democracy, World War I was the product of squabbles among European countries over spheres of influence and colonies in Asia and Africa. 
This view was shaped in no small measure by the voluminous information DuBois collected on the experiences of Black troops. During basic training, the War Department bowed to the concerns of white southerners and did not distribute guns to Black soldiers. Overseas combat units were racially segregated. 
A commanding officer from Georgia arrested a Black captain, charging him with 23 offenses, including not posting the company's meal menu in the kitchen. False allegations of rape plagued the all-Black Ninety-Second Division.
When the soldiers returned home, white supremacists assaulted them, even when they were in uniform. In what the NAACP dubbed the "Red Summer" of 1919, race riots erupted in towns and cities across the country.
"When the armed lynchers gather, we too must gather armed," DuBois wrote. It did not escape his attention that President Woodrow Wilson said and did nothing to stop them.
In the ensuing decades, a chastened – and radicalized – DuBois viewed war as a tragedy. After the Japanese attack on Pearl Harbor, DuBois declared that Blacks would fight again, not because America "is always right, or always just, or even always decent," but because "whatever this country is, it is because of our blood and our toil and our sacrifice."
DuBois never stopped demanding equal rights for Blacks. However, appalled by the Cold War and McCarthy-era loyalty oaths and blacklists, DuBois moved to Ghana in 1961.  Williams suggests that DuBois officially joined the Communist Party "in an act of defiance."
Nonetheless, DuBois continued to believe "that someday this nation will become a democracy without a color-line."
Dr. Glenn C. Altschuler is the Thomas and Dorothy Litwin Professor of American Studies at Cornell University.