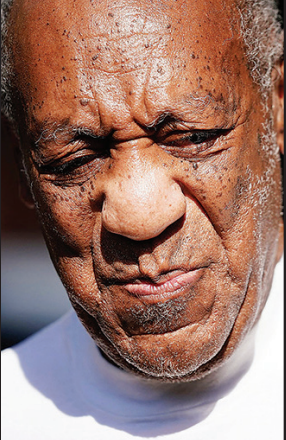 Disgraced comedian Bill Cosby is eyeing a return to performing in 2023, despite recent accusations of sexual assault from multiple women.
In a 15-minute interview with Marion, Ohio, internet radio station WWGH, the 85-year-old said he feels like he'll be able to "perform and be the 'Bill Cosby' that my audience, in-person, knows me to be."
When host Scott Spears asked whether 2023 would be the year for Cosby's return, the comic said, "Yes. Yes, because there's so much fun to be had in this storytelling that I do."
Once known as "America's Dad," Cosby has been eyeing a return to comedy since the days leading up to his 2018 sexual assault trial in Pennsylvania. He has long maintained his innocence.
Cosby was convicted of drugging and sexually assaulting Andrea Constand, a former university basketball official, at his mansion near Philadelphia in 2004. More than 50 other women had also accused Cosby of a similar pattern of drugging and assaulting them.
However, Pennsylvania's Supreme Court overturned Cosby's conviction in 2021 due to an
Since then, Cosby has continued to face additional sexual assault accusations from other women. This past June, a civil jury in Santa Monica decided Cosby was liable for sexually abusing a teenage Judy Huth at the Playboy Mansion in the mid-1970s. He was ordered to pay Huth $500,000.
Last month, five women — including "Cosby Show" actors Lili Bernard and Eden Tirl — filed a separate sexual assault lawsuit against Cosby and NBCUniversal Media, Kaufman Astoria Studios and the Carsey-Werner Co., which together ran the show from 1984 to 1992.
The 34-page lawsuit details multiple, separate instances of alleged rape and drugging by Cosby throughout the 1960s and into the 1990s. Several of the defendants alleged that Cosby had placed an "intoxicant" in their beverages and raped them. The allegations were consistent with those by women who had previously spoken out against Cosby.
When addressing his desire to return to comedy, Cosby alluded to his continued legal issues, saying that he has felt "respect" from his friends, family and Spears, for "what I have tried to do and will continue to do when we, quote-unquote, get out of this mess."