"Justice Deferred: Race and the Supreme Court'' by Orville Vernon Burton and Armand Derfner. Harvard University Press. 449 pages. $35.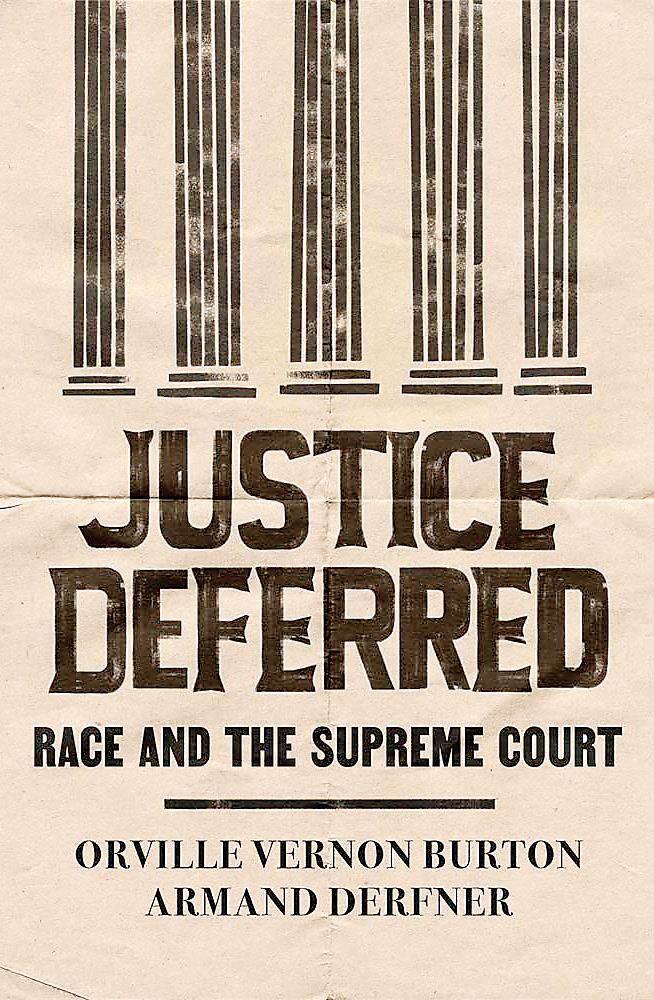 In 1841, the Supreme Court declared that the 40 Blacks on the Amistad, which had come ashore near New London, Connecticut, were "natives of Africa, and were kidnapped there, and unlawfully transported to Cuba." 
Acknowledging that they had seized control of the ship and killed the captain, Justice Joseph Story concluded, "these negroes ought to be deemed free, with no obstacle to the just assertion of their rights."
The decision, Orville Vernon Burton and Armand Derfner remind us, was a landmark victory for freedom.  But the justices' solicitude owed more to opposition to the international slave trade than "skepticism regarding the institution of slavery."
In "Justice Deferred,'' Burton (a professor of history at Clemson University) and Derfner (a former counsel for the NAACP Legal Defense Fund) provide a comprehensive, informative, and accessible survey of the race jurisprudence of the Supreme Court since the adoption of the United States' Constitution.
As they describe how civil rights and antidiscrimination law has been interpreted by the high court, Burton and Derfner maintain that judicial interpretations ought to reflect the principle that all Americans "are enriched when everyone is a full-fledged member of society."
'Despicable decisions'
Tragically, the authors demonstrate, the Supreme Court has tended to treat federal and state laws "narrowly, to mean the least they have to mean," with "very few successful outcomes" for African Americans.  The 13th, 14th and 15th Amendments and a "cavalcade" of legislation passed by Congress in the decade following the Civil War, "provided a comprehensive structure of freedom," including the right to vote. 
But when Reconstruction ended in the 1870s, the Supreme Court issued "despicable decisions" that permitted southern states to enact "capricious and brutal" Jim Crow statutes. A majority of the justices endorsed "the
lie that the federal Constitution had 'a field of permissible action'" for deliberate racial discrimination by public and private entities.
In the first half of the 20th century, with Justice Charles Evans Hughes leading the way, the Supremes took small steps toward racial justice. But it was Chief Justice Earl Warren's Court, between 1954 and 1968 ("the mere twinkling of an eye in judicial time"), that struck down de jure segregation, in public schools and "crossing a last frontier," with anti-miscegenation statutes. 
In interpretations as broad as earlier courts' were narrow, Warren and his colleagues banned private acts of discrimination and established a firm constitutional basis for voting rights.
Momentum slows, stalls
When Warren Burger succeeded Earl Warren, the civil rights momentum slowed and then stalled. Under Chief Justices William Rehnquist and John Roberts "the moderately conservative current grew into a dramatic wave, washing away major civil rights protections." 
Using a doctrine called "the equality of the states" which, according to the authors, does not exist, Roberts gutted key provisions of the 1965 Voting Rights Act, freeing southern states to make it much more difficult for African Americans to participate in elections. 
And in a fascinating chapter, Burton and Derfner explain how distinctions between "a discriminatory purpose" and a "discriminatory effect" have been used to decide whether (and in what ways) affirmative action laws involving employment, education, and voting will pass constitutional muster.
The basic premise of "Justice Deferred,'' is, of course, that the Supreme Court has played – and continues to play – a substantial role in securing equal rights and opportunities for all Americans.  That said, Burton and Derfner document how often African Americans risked their lives to secure those rights.
'Tired of giving in'
The experiences of two Black women epitomize their courage and commitment. Addressed by a prosecutor in an Alabama court as "Mary," a Freedom Rider refused to answer questions until he referred to her as "Miss Hamilton." 
Convicted of contempt of court, Miss Hamilton appealed, and the Supreme Court reversed, cancelling her five-day sentence and $50 fine. Hamilton became the southern regional director of CORE.
The authors also re-tell the story of the inimitable Rosa Parks, who refused to relinquish her seat to clear a row for a white passenger on a bus in Montgomery, Alabama in 1955. She did not risk arrest because she was tired, Mrs. Parks later recalled, "the only tired I was, was tired of giving in."
Inspired by these racial pioneers, Burton and Derfner conclude their book with another of them, U.S. Youth Poet Laureate Amanda Gorman, who prefers to see American democracy not as "something that's broken," but as "something that's unfinished."
Instead of giving in to despair, Gorman aspires to "take up the mantle" and "write the future," along with her sisters and brothers.
Dr. Glenn C. Altschuler is the Thomas and Dorothy Litwin Professor of American Studies at Cornell University. He wrote this review for the Florida Courier.