Actress and producer portrays Liberty in 'PAW Patrol' movie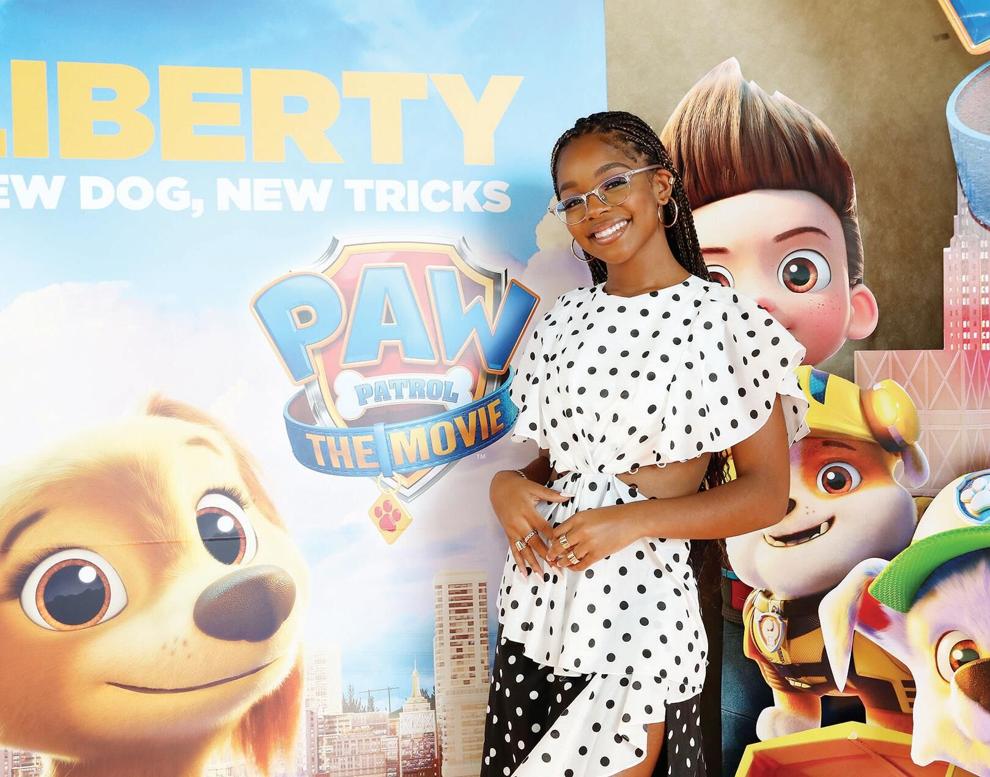 Marsai Martin's newest movie role is full of energy, fur and four legs!
The 17-year-old actress is among the star-studded cast of "PAW Patrol: The Movie.'' Marsai plays Liberty, a spunky golden fur dachshund, whose energy the "black-ish'' actress can relate to. 
"How she's like a big fan of the 'PAW Patrol' is like how I'm a big fan of Beyonce or someone else," Martin tells the Florida Courier during a virtual Zoom interview. 
The "Little'' star used to watch the children's show with her little sister and became a fan of the six rescue pups of Adventure City, particularly Marshall, Zuma and Sky, who are her favorites. 
"I think there's just a lot of them that I love just by what they do. I love that each pup had their own vibe to them."
First voiceover role
Playing Liberty is Marsai's first voiceover as an actress, but she shares interest in doing more like them.
The majority of her part in filming took place right in her home as a result of the COVID-19 pandemic. But with the help of her mother, a few mics and a poster of her character to look at and get inspired from, she managed to complete it.  
"I think my favorite thing with all voiceovers is coming back and seeing the updated version of what they did with the film," she said. "I feel like each time I went, it was new animation and different lines to read."
The movie also stars Tyler Perry as a bus driver named Gus and Kim Kardashian as Delores the poodle; comedian Jimmy Kimmel and Marsai's former "black-ish'' co-star, Yara Shahidi.  "I think they're [kids] gonna love this movie," Marsai said.  "I love the beautiful visuals of it all. It›s just amazing colors. It›s fun, it›s bright, the music is amazing. 
Representation matters 
"Paw Patrol'' is the latest addition to Marsai's resume on how the young actress continues to use her platform to highlight representation, specifically for Black girls. 
Her "Paw Patrol'' role not only shines light on the importance of first responders in our community but also lets other Black girls know they can do it too. 
"Just getting to hear kids coming up to me or moms saying how important it is that I'm on the screen," she reflected about being a role model to both Black kids and young adults, "showing their daughters or even sons that they can do whatever they want and not feel afraid, is definitely, very reassuring."
She has already secured her spot in history. Her producing role in the 2019 film, "Little,'' co-starring Issa Rae of "Insecure,'' secured her a Guinness World Record as Hollywood's youngest executive producer. The movie was her first production role and at the time, she admits, she was learning the ropes. 
But since then, she's launched her own production company, Genius Productions, and is more confident in the content she shows and portrays. 
"I'm definitely a person that knows what I want," she said, about being the young boss and calling the shots. "And making sure that's portrayed in the same way as I imagined, it has always been a big thing for me." 
She adds about her Genius staff, "Making sure my team knows exactly the things that we're leaning towards and the lane that we want to take."
Giving back
When Marsai is not maximizing her role in Hollywood and creating intentional content for the culture, she is using her platform to award and mentor fellow teens. 
The Texas native is also a philanthropist. Recently she partnered with the braces company, Invisalign to award teens who were doing outstanding work in their communities. Up to 100 kids were awarded $5,000. 
"There's so many kids my age out there that are also doing amazing things that aren't in the industry," she shared.
"They're doing amazing things in their communities and helping in the best way that they can and it's the greatest thing to recognize that."
"Paw Patrol: The Movie'' premieres in theaters on Aug. 20.