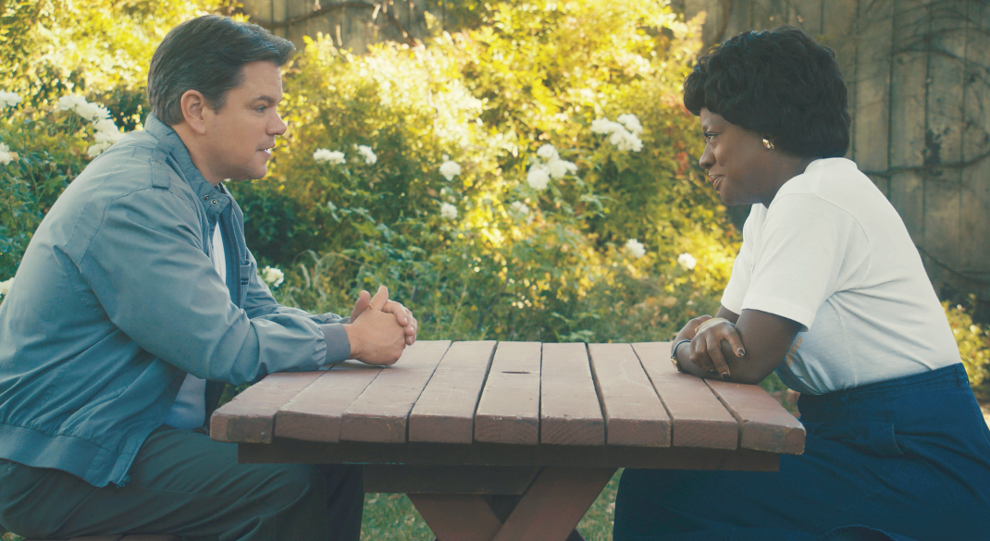 What do the movies "Air" and "Sweetwater" have in common? Both dramas draw from the real lives of groundbreaking Black basketball stars. Both movies were released within two weeks of each other in April 2023. And both projects have come under scrutiny and criticism for how their all-white teams of directors, writers, and producers handled the portrayals of these Black basketball players and their stories.
Critics note that the Black basketball players are not presented in these movies as fully developed human beings but as money-making opportunities existing to boost powerful white men in the business of basketball look like visionary heroes.
National Public Radio's Aisha Harris, one of the Black critics of "Air," says in her review: "'Air' is a soulless dramatization of how a giant corporation convinced a promising NBA rookie to make its already wealthy and well-off board members, CEOs, and salespeople even wealthier and set for life."
As told by whites
Amazon Studios' "Air," set in 1984, tells the origin story of Nike's massively successful Air Jordan brand, named for and inspired by Michael Jordan. In 2022, Nike reported $5 billion in annual sales of Jordan Brand, the company's division for Air Jordan merchandise. Those annual revenue numbers are expected to rise.
"Air" is directed by Ben Affleck and written by Alex Convery, and told from the perspectives of the Nike executives involved in the then-unprecedented deal for Jordan to get an entire Nike shoe line developed for him. At the time the deal was made, Jordan was a 21-year-old NBA rookie who hadn't yet begun playing for the Chicago Bulls.
Briarcliff Entertainment's "Sweetwater," which takes place mostly in 1949 and 1950, is a biopic about Nathaniel "Sweetwater" Clifton, who was one of the first Black players in the NBA. In 1950, Clifton was recruited from the Harlem Globetrotters to join the New York Knickerbockers, later known as the New York Knicks.
"Sweetwater" was written and directed by Martin Guigui and doesn't explore Clifton's time with the Knicks until the last third of the film. Much of the movie is about white male basketball leaders scheming ways to make money off Clifton, and arguing over whether or not Black basketball players deserve to be in the NBA.
Elevating white executives
People who watch "Air" should not expect Jordan to be a major character in the film. "Air" relegates him to being a character (played by Damian Young) in the margins of a story about Nike needing Jordan for a landmark deal that would ultimately make the Air Jordan the bestselling celebrity athletic footwear brand in the world.
In "Air," the character of Jordan is on screen for a few minutes. He is seen mostly with his back to the camera, and he mumbles some forgettable words. The movie briefly shows archival clips of the real Jordan.
In the production notes for "Air," Affleck explained why he chose to have Michael Jordan almost erased from the movie: "Michael Jordan is so famous that I truly felt if we ever saw an actor playing [him], it would be hard to get the audience to suspend their disbelief, because, in my opinion, there's no convincing anybody that someone who isn't Michael Jordan is Michael Jordan."
In "Sweetwater," the movie's namesake (played by Everett Osborne) is the central character. However, "Sweetwater" doesn't bother to show much of his life other than in the context of how he can make money for white men, such as Harlem Globetrotters coach/manager Abe Saperstein (played by Kevin Pollak); and New York Knickerbockers coach Joe Lapchick (played by Jeremy Piven). The Lapchick character in particular has a "white savior" attitude, by appointing himself as the only person willing to break the NBA's racial barriers for Clifton.
Several of the 1940s Harlem Globetrotters are briefly depicted in "Sweetwater." However, they are all overshadowed by the wheeling-and-dealing white characters who get more importance in the movie.
Facts vs. fiction
The protagonist of "Air" is Nike basketball recruiter Sonny Vaccaro (played by Matt Damon), who is portrayed in the movie as the one person who came up with the idea for Nike to sign Jordan to this deal. In real life, there have been conflicting stories about who came up with the idea.
Jordan told USA Today, "Sonny [Vaccaro] likes to take the credit. But it really wasn't Sonny, it was actually George Raveling. George Raveling was with me on the 1984 Olympics team [as an assistant coach under Bob Knight]. He used to always try to talk to me, 'You gotta go Nike, you gotta go Nike. You've got to try.'"
In "Air," Raveling is depicted by Marlon Wayans, and he gets less than 15 minutes of screen time in this 111-minute movie. Knight is portrayed by Affleck in "Air," which makes Vaccaro the biggest hero of the story but fails to mention that Vaccaro was fired by Nike in 1991. It should be noted that Affleck and Damon, who are longtime friends, are two of the producers of "Air" and have two of the largest standout roles in the movie.
"Sweetwater" inaccurately depicts Clifton as the first Black American to play in the NBA, when in real life, Earl Lloyd of the Washington Capitals achieved that breakthrough in 1950.
In 1990, at the age of 67, Clifton died in relative obscurity in Chicago. He spent the last years of his life working as a taxi driver and never received a pension from the NBA. But instead of pointing out this travesty, "Sweetwater" spins the last year of Clifton's life in the context of a white sports journalist (played by Jim Caviezel) getting into Sweetwater's taxi as a passenger, and then being awestruck when he learns the driver's identity.
Guigui also claims he did extensive research that included meeting with sports journalist Pete Hamill, sports announcer Red Auerbach, and children of Clifton and Saperstein — namely, Chetan Robinson and Eloise Saperstein.
Where is family?
In "Air," Viola Davis plays Michael Jordan's mother, Deloris Jordan, who negotiated a groundbreaking part of the first Air Jordan deal in 1984 by insisting that Michael get an ownership percentage of all Air Jordan revenue. Nike originally offered a flat licensing fee, which was the standard deal for basketball players at the time.
Davis' real-life husband, Julius Tennon, portrays Michael's father James Jordan, who is depicted as supportive but laid-back and not as assertive as Deloris in the dealmaking.
Affleck has said in many interviews that he got Michael Jordan's blessing to make "Air" on the condition that Davis would be cast as Deloris and that Raveling and White (who is vice president of Nike's Jordan Brand) would also be depicted in the film. Michael Jordan has not commented on how all of these Black characters in "Air" have considerably less screen time than the white characters.
In "Sweetwater," Clifton's family gets less than 10 minutes of screen time. A flashback scene to his childhood takes place in an Arkansas cotton field, including a closeup of the cotton that a 7-year-old Sweetwater (played by Ca'Ron Jaden Coleman) and his father Joe (played by Clifton Nathaniel) had to pick as they worked together.
The movie shows that Sweetwater's mother (played by Ashani Roberts), whose first name is never mentioned in the movie, used to give him sugar water, and that became his favorite drink and inspired his nickname. There's a tearful farewell scene between Sweetwater and his mother when his father decides to move away to find work in "the big city" and take Sweetwater with him, but the movie never bothers to explore how this trauma affected Sweetwater.
Most importantly, the movie unrealistically ignores racism he would have faced in Jim Crow America.