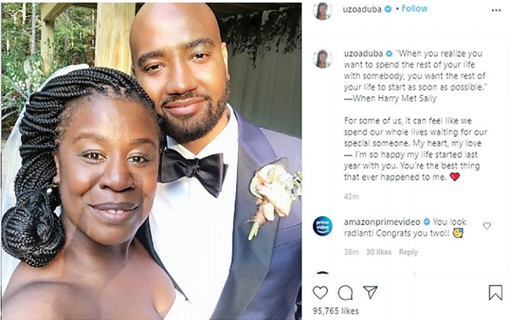 Uzo Aduba, who won two of her three Emmy Awards for playing the zany character on Netflix's breakthrough drama series "Orange Is the New Black," has revealed she is married.
On Sept.12, the actress went public about secretly tying the knot with filmmaker Robert Sweeting in New York last year. Uduba shocked her social media fans with the surprise announcement, sharing a photo from her nuptials and beginning her caption with a quote from "When Harry Met Sally."
"When you realize you want to spend the rest of your life with somebody, you want the rest of your life to start as soon as possible," Aduba, 40, wrote before diving into the happy news that she had kept under wraps for the past year.
"For some of us, it can feel like we spend our whole lives waiting for our special someone. My heart, my love — I'm so happy my life started last year with you," the Emmy-winning "Mrs. America" star announced.
"You're the best thing that ever happened to me."
The usually private actress did not disclose when she and Sweeting will celebrate their first anniversary.
Aduba currently stars in the revival of HBO's "In Treatment," for which she has been nominated for a 2021 Emmy award for outstanding lead actress in a drama series.