St. Petersburg counselor shares her thoughts on stress, coping and counseling.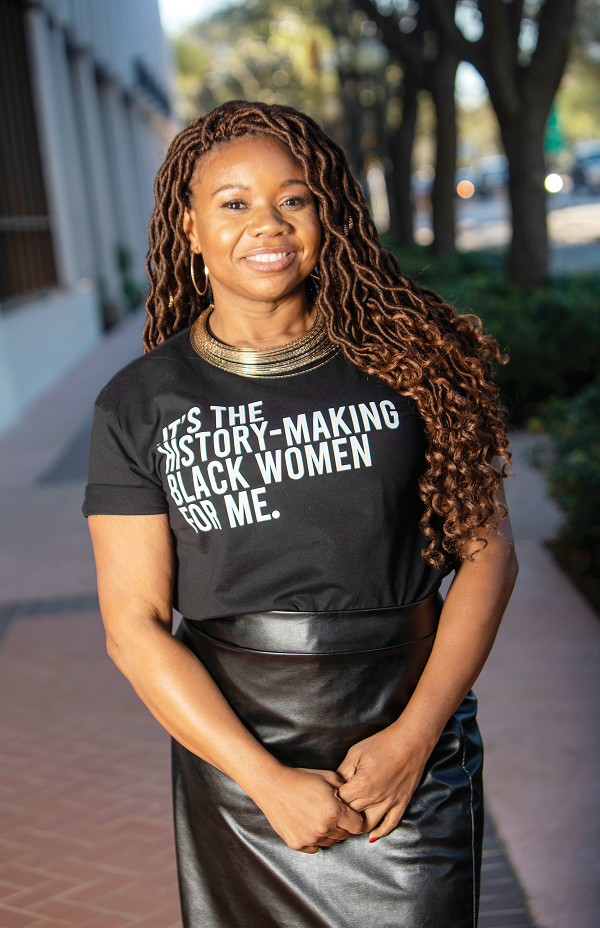 With most Americans still reeling from the pandemic, experts are encouraging everyone to focus on their needs during Mental Health Awareness Month in May.
Mental Health America, which created the event in 1949, declares the theme this year as "Back to Basics." Now more than ever, said licensed mental health counselor Dr. LaDonna Butler, people need connection with one another.
"We've overly complicated some things. We've forgotten the thing that has allowed us to experience joy in the midst of extreme stress and turmoil, and that really is our connection with each other," said Butler, who is associate program director at the University of South Florida's Family Study Center. "We've forgotten how to share meaningfully with each other."
According to the National Alliance on Mental Illness, one in five American adults experience mental illness each year. The organization's studies reveal that 50% of all lifetime mental illness begins by age 14, and 75% by age 24.
Mental illnesses can include anxiety disorders, attention deficit hyperactivity disorder, bipolar disorder, depression, obsessive compulsive disorder, eating disorders, post-traumatic stress disorder and schizophrenia, said Butler, who is founder of The Well for Life in St. Petersburg.
She believes the state of mental health in the Black community has improved in some respects because "Black folks have been seeking counseling, …unapologetically asking for help."
Butler said she hears Black people talking about seeking therapy in regular conversations. This shift is apparent in rap lyrics, such as in Kendrick Lamar's new song, "United in Grief," where he mentions "I went and got me a therapist. I can debate on my theories and sharing it." "We are now naming mental health as important. 
We're using the right language. We're talking about counseling. We're normalizing what getting help means and I think that is a beautiful thing," Butler said.
She's noticed Black people are now not just discussing pain and situations they've survived "but also naming actions, behaviors, and attitudes that weather spirits and weather our mental health. We are now giving language to it."
Butler believes this shift in the Black community's focus and awareness on mental health was prompted by two things: the COVID-19 pandemic and the death of George Floyd at the hands of police.
"Black folks are stressed," she said.
Finding affordable options
While some may be deterred from seeking counseling because they believe it's too expensive, Butler advised there are many ways to make it affordable. She suggests people use their Employee Assistance Program benefits; sessions are kept confidential.
If that's not available, Butler recommends people check to see if their health insurance covers behavioral health services such as counseling. And, providers often offer sliding scale rates for low-income persons, she said.
Butler has counseled clients of all ages, ranging from adolescent victims of crimes to domestic violence survivors to those recovering from addiction. She said the ability to cope, survive, and thrive after a disorienting experience has "everything to do with [clients'] connections with other people and their connection with spirituality."
"Those are two major factors that I've seen when talking to people who some are doing exceptionally well in what we call the post-traumatic growth experience and those who are stuck in disorder based on the traumatic experience that they received," she explained. "It really has to do with their connectivity. 
We need each other. We heal in and through community. It's through isolation and it's through shame that we remain stuck."
Butler stresses the need for being strategic on who we reconnect and share our struggles with. She finds it important to connect with peers who are navigating similar life challenges to facilitate sharing strategies for coping.
"These are the folks who are able to keep boundaries, reliable, elements of accountability…They have a vault on their mouth. They won't share information that's not theirs to share. They're encouraging. They have elements of integrity," Butler explained. "Those are types of people we want in our life. Folks who can help us be honest with ourselves and willing to stay in the struggle with us because they also have it too."
Coping with stress
When figuring out how to deal with stress, Butler said the first step is acknowledging it and the conditions that are causing the stress. She advises people to look at what's fueling a particular belief system or behavior.
"The second piece is really around strategy where we revisit the things that have historically worked for us whether it's our spiritual practices…taking a walk, taking a bath in our own bathtub if we have it, talking to a friend," Butler said.
On May 28, Butler is hosting an event, "Movement and Mental Health," from 9 a.m. to noon at the Lake Vista Recreation Center, St. Petersburg. The free event will include a neighborhood walk, yoga and meditation. The goal is for participants to learn how movement is connected to one's health and well- being.
In addition, The Well for Life will host a hybrid conference from July 29 to 31 called "Healing While Black." Some of the events include a personal and professional development summit, a community festival and a Black Men's Brunch.
"It's important as an adult to play, to get back to our joy center," Butler said, "while also understanding that rest is our birthright."
For more information, visit www.thewellforlife.org.