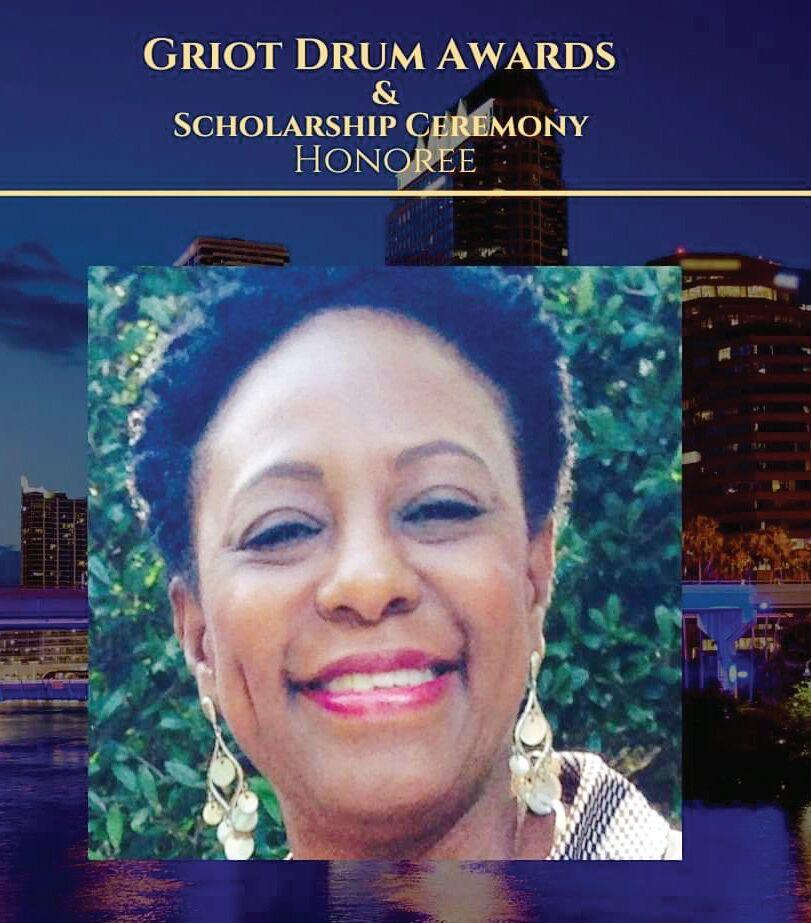 Jenise Griffin, publisher of the Florida Courier, is among five Tampa Bay journalists who will be honored next month for their achievements in journalism at the Tampa Bay Association of Black Journalist's Griot Drum Awards & Scholarship Ceremony.
"TBABJ is excited to honor such distinguished local journalists," said TBABJ President Jasmine Styles. "Whether they're still grinding it out in the newsroom or have switched careers, we must give these trailblazers credit for establishing a path of excellence many young journalists can follow today."
Along with honoring area journalists for their achievements, the annual Griot Drum Awards recognizes Tampa Bay broadcast, multimedia and print professionals for their outstanding coverage of people of color in 2020. TBABJ also awards thousands of dollars in scholarships to students majoring in journalism.
"It's such an honor to me to be recognized  by an organization that's so near and dear to my heart," said Griffin, former president, vice president of print and treasurer of the organization.
Veteran journalist
The Florida A&M University graduate became publisher of the Courier and its sister newspaper, the Daytona Times, in April 2020 upon the retirement of Charles W. Cherry II.
Prior to becoming the publisher, she was the newspapers' senior editor.
Griffin also is a 2013-2014 recipient of the Rosalynn Carter Fellowships for Mental Health Journalism. She wrote a series of stories for the Courier exploring the stigma and misinformation about mental illness among African Americans.
Griffin started her journalism career as a reporter with the Daytona Times and then went on to become a copy editor and reporter at the Orlando Sentinel.
She later became the features editor of her hometown newspaper, the Naples Daily News. While at the Naples paper, she also served on the editorial board and wrote a weekly column. She also has worked for other publications in Florida and Georgia.
She has received awards from the Society of Professional Journalists, Florida Press Association and the Tampa Bay Association of Black Journalists.
Nov. 18 event
A member of the National Association of Black Journalists, Griffin also is a charter member of the Central Florida Association of Black Journalists.
In addition, she is a charter member of the Collier County Alumnae Chapter of Delta Sigma Theta Sorority and serves as the chapter's journalist.
The Griot Drum Awards will take place at 6:30 p.m. Nov. 18 at the Rialto Theater in Tampa.
Griffin will be honored along with Rod Carter, anchor with CBS 17 News in Raleigh N.C., who is a former anchor with WFLA News Channel 8 in Tampa; NPR TV critic Eric Deggans; Ernest Hooper, vice president of communications for United Way Suncoast; and Boyzell Hosey, deputy editor of photography at the Tampa Bay Times.