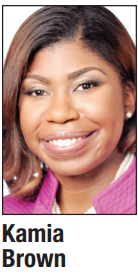 With Randolph Bracy running for a congressional seat, state Rep. Kamia Brown, D-Ocoee, will try to succeed him in the Florida Senate.
Brown has filed paperwork to run next year in what is now Senate District 11 in Orange County, according to the state Division of Elections website.
Bracy, D-Ocoee, will run in 2022 for a congressional seat that will be open because U.S. Rep. Val Demings, D-Fla., is running for the U.S. Senate. Brown is the first candidate who has filed paperwork for the state Senate seat.
She was first elected to the state House in 2016. The Senate district's boundaries – and potentially its number – will change before the 2022 election because of the upcoming reapportionment process.