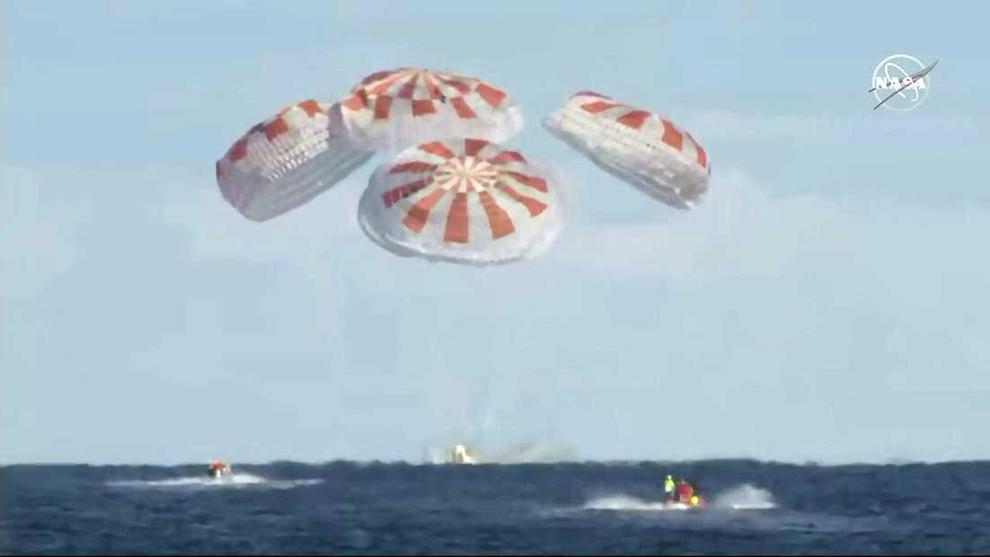 BY SAMANTHA MASUNAGA
LOS ANGELES TIMES/TMS
LOS ANGELES – SpaceX's Crew Dragon capsule splashed down in the Atlantic Ocean on Friday morning (March 8), marking the last major milestone of a NASA test mission and precursor to future human spaceflights.
The hatch of the capsule, which did not have a crew aboard, closed on Thursday (March 7) at 12:39 p.m. EST. The capsule then undocked from the International Space Station at 2:32 a.m. Friday after a five-day stay.
About five hours later, after a 15-minute de-orbit burn, the Crew Dragon capsule floated down into the Atlantic Ocean off the coast of Florida at 8:45 a.m. EST, buoyed first by two drogue parachutes and then by four main parachutes.
Elon Musk-led SpaceX is required to get the capsule — and on later flights, the crew — out of the water less than an hour after splashing down, according to NASA.
This time, the capsule was packed with more than 330 pounds of science equipment and other hardware from the space station. A mannequin passenger named Ripley, which rode in the capsule on the way up to the station and was laden with sensors to test the flight experience, also returned to Earth.
Musk had described the capsule's reentry as "probably my biggest concern" because the Crew Dragon's emergency escape thrusters are embedded in the capsule's side, making the vessel less smooth than SpaceX's cargo capsule. That design difference could "potentially cause a roll instability on reentry," Musk said during a post-launch news conference last week.
"I think it's unlikely," he said. "We've run simulations a thousand times. But this is a possibility."
The company has conducted 16 resupply missions to the space station with its Dragon cargo capsule. After those flights, the spacecraft always splashed down in the Pacific Ocean, closer to SpaceX's Hawthorne headquarters.
The Crew Dragon's return puts a coda on the first test flight of the capsule, which launched early Saturday morning from Florida on a SpaceX Falcon 9 rocket. About a day later, it docked autonomously at the space station for the first time.
The test mission was the first launch of NASA's commercial crew program — a public-private partnership in which the agency awarded SpaceX and Boeing Co. a combined $6.8 billion in contracts to each build a craft capable of taking astronauts to the space station.
Boeing's first uncrewed test flight is set for April, with a crewed launch scheduled for no earlier than August. SpaceX's crewed test flight is expected no earlier than July.
But before that happens, SpaceX and NASA will pore through the data from this flight and conduct more tests.
The capsule used in this test mission will be reused in an upcoming in-flight abort test set for June.