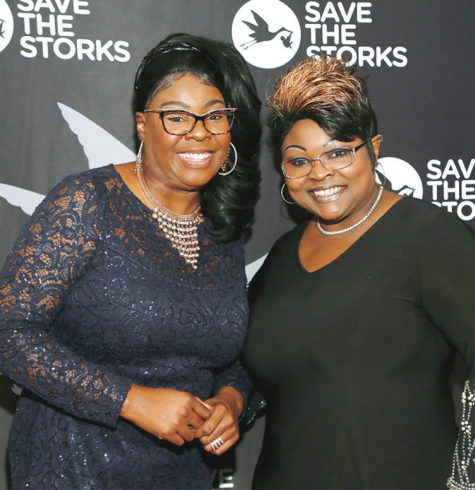 Diamond, one half of the proTrump video-blogging and podcasting duo Diamond and Silk, has died. She was 51.
Former President Donald Trump said Jan. 2 in a statement that Diamond died "at her home in the State she loved so much, North Carolina." No cause of death has been given, though Trump noted on his Truth Social platform that her death was "unexpected."
In November, Diamond and Silk asked their Twitter followers to "please pray for Diamond" without elaborating further.
"The World just lost a True Angel and Warrior Patriot for Freedom, Love, and Humanity!" read a statement shared Monday on Diamond and Silk's Instagram page.
"Diamond blazed a trail, founded on her passion and love for the entire race of humanity. In this time of grief, please respect the privacy of Diamond's family but remember and celebrate the gift that she gave us all! Memorial Ceremony to be announced soon."
The Instagram tribute included a link to a fundraising campaign for Diamond's memorial that has amassed more than $43,000.
Far-right commentaries
Lynnette Hardaway, also known as Diamond, and sister Rochelle Richardson, also known as Silk, were both born in 1971, according to NBC News.
For years, the pair filmed themselves delivering far-right commentary and posted the videos on Facebook, YouTube and other platforms. They are primarily known for their staunch support of Trump during his presidential campaigns.
The duo's "Diamond & Silk: The Podcast" has run for 264 episodes, with two episodes released per week. The most recent show was posted in mid-December.
Diamond and Silk also briefly worked as contributors at Fox News, which ended their employment in 2020 after they spread baseless COVID-19 conspiracy theories on air, Variety reported. They later hosted the series "Diamond and Silk: Crystal Clear" on Newsmax and published a book called "Uprising."
"Really bad news for Republicans and frankly, ALL Americans," Trump said in his statement.
"Our beautiful Diamond ... has just passed away ... Silk was with her all the way, and at her passing. There was no better TEAM anywhere, or at any time! ... probably her big and precious HEART just plain gave out. Rest In Peace our Magnificent Diamond, you will be greatly missed!"
MyPillow chief executive Mike Lindell was among others who mourned Diamond online,  tweeting  Tuesday, "There are no words to express the tragic loss of a dear friend Diamond, of Diamond & Silk. We are praying the Lord would comfort Silk and their whole family during this time… 'The Lord is close to the brokenhearted and saves those who are crushed in spirit.' Psalm 34:18."