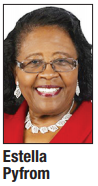 Estella Pyfrom wore many hats: Fiercely protective momager to four highly successful children, longtime devoted wife, doting grandma known as "Gorgeous," neighborhood mom, ingenious educator, and, of course, the fearless founder of Estella's Brilliant Bus.
And though the world knows her as the latter, it's all those former things that made her a pure gem to her family. Estella Mims Pyfrom succumbed to a lengthy illness on Dec. 29, 2021. She was 85 and died peacefully surrounded by family.
Due to the upsurge in COVID-19 cases, at their behest, her family celebrated her life on Jan. 8 at Jaega Middle School in West Palm Beach. The locale was befitting of a 50-year educator in the School District of Palm Beach County.
While her impact as an edu- cator was profound, it was Pyfrom's later-in-life gig that catapulted her to worldwide critical acclaim, capturing the adoration of two American presidents, Oprah Winfrey, Microsoft, CNN's Anderson Cooper, Dr. Mehmet Oz, and so many others. She was even honored by the NFL and the NBA.
Her Brilliant idea
At age 70, Pyfrom learned how to use a computer via one of her grandchildren, then did the unimaginable. 
She took $1 million of her and her husband's personal finances and converted a tour bus into a state-of-the-art mobile computer lab, outfitted it with nearly 20 computer stations, then drove around impoverished communities teaching poor kids how to use them.
No place was too big or small to take the Brilliant Bus: schools, fairs, centers, churches – wherever she could find those interested in stroking the keyboard of a laptop.
This spry senior clearly piqued the curiosity of onlookers every-where who were fascinated by her determination to bridge the digital divide between the haves and the have nots.
Pyfrom was adamant about making sure the poor and working poor were on the right side of the technology boom. She came out of retirement to do so.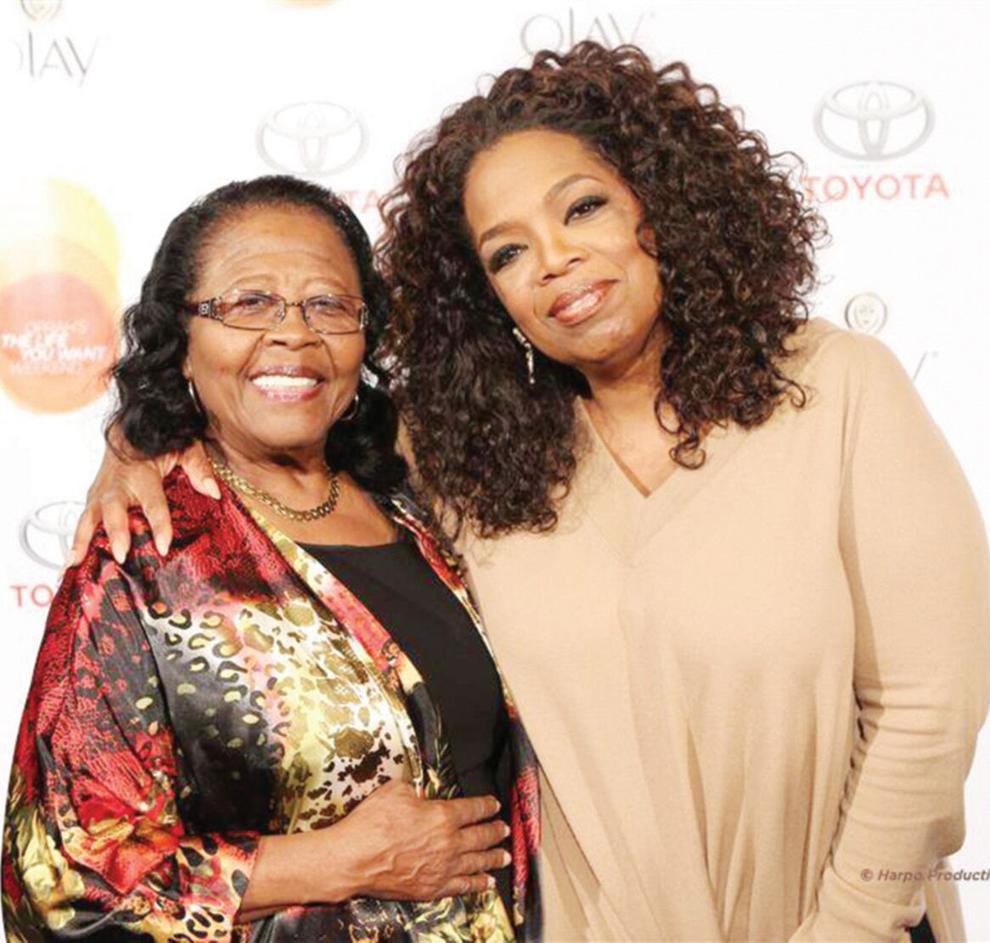 Admirers in high places
Her concept and motivation gripped the nation's most noted. President Barack Obama and First Lady Michelle Obama invited her to the White House for a ceremony with former President George H.W. Bush as an honoree of his father's Points of Light program.
The program honors ordinary citizens who are making an extraordinary difference in the lives of the downtrodden. Pyfrom was Bush's 5,000th "point of light.''
It was just one of many high-profile honors bestowed upon this out of the ordinary senior.
Microsoft Corp. used its Super Bowl ad in 2015 to showcase Pyfrom and her Brilliant Bus. The company filmed the ad in the rural town of Belle Glade where she grew up picking beans. She and Microsoft enjoyed a relationship for years to come.
Pyfrom's farmworker parents brought the family to the Glades in Palm Beach County when she was about 6 years old. According to her sister, Harma Miller, Pyfrom met the love of her life, Willie Pyfrom, in the 10th grade. They began courting and married in 1958.
"She is my hero," Willie Pyfrom said through tears on a videotape narrated by Oprah Winfrey when Estella was honored by Winfrey in Miami in 2014. The video was shown before 20,000 adoring "fans" as Winfrey honored a handful of individuals at the American Airlines Arena, now called FTX Arena.
The same narration was played during her homegoing celebration on Jan. 8. The audience were 
in tears at the portrayal of her poignant life that got its early start in the bean fields.
'Most loved couple'
Many former students of the Pyfroms attended and participated in the service, including the eulogist, Pastor Kenneth Jack- son Jr., and the musicians. And while Estella taught for 50 years, Willie Pyfrom taught for 60 years and one of the state's most noted band directors.
"We have got to be one of the most loved couples on the planet," Willie Pyfrom told a group of journalists days after her passing. "We are so blessed. So, so many students tell us the profound impact we've had on their lives. We're truly blessed by that. It's countless."
Pyfrom wrote her memoir, "The Legacy of a Humble Black Woman," in which Winfrey penned the foreword. "I'm so humbled that my life story touched her," she said of Winfrey.
Winfrey admired Pyfrom's courage in starting her nonprofit as a senior citizen when most seniors wanted to sit on a porch in a rocking chair. Pictures of the Pyfroms and Winfrey were fea- tured onscreen in a collage at the homegoing service.
Dignitaries that spoke on behalf of Pyfrom during the service included School District of Palm Beach County Superintendent Mike Burke and Board Member Marcia Andrews; as well as Palm Beach County Commissioner Mack Bernard, who knew Pyfrom before both had such public lives. He was a young real estate attorney, and she was a property owner seeking his services when they met decades ago.
Juan Pyfrom, her son, an international lawyer and retired Army colonel, said the family will, in time, make decisions on the Brilliant Bus movement and will likely establish a foundation. However, to continue her legacy, well-wishers and those who want to support her cause may make contributions to estellasbrilliantbus.org.
Pyfrom is survived by her husband, Willie, their four children: Gene, Juan, Dr. Karen Pyfrom Abrams, and Mia; a host of grandchildren, a few great- grands, and other relatives.