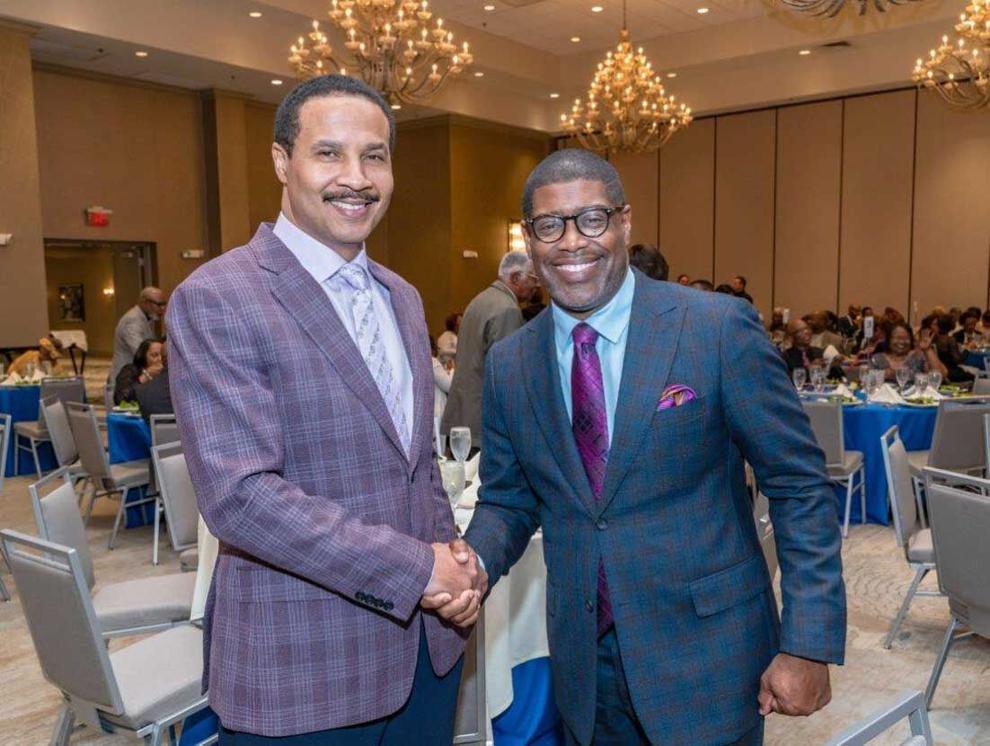 The African-American Council of Christian Clergy (A.A.C.C.C.) of Central Florida held its installation ceremony and fellowship dinner on Feb. 17 at the DoubleTree by Hilton Hotel at SeaWorld in Orlando.
Roderick Zak, founder and pastor of Rejoice in the Lord Ministries in Apopka and Derrick L. McRae, founder and pastor of The Experience Christian Center in Orlando were inducted as president and vice president, respectively.
Over 300 members of neighboring communities attended, which included clergy, ministers, community leaders and elected officials.
The event was co-hosted by Bishop Allen T.D. Wiggins and Lady Deborah Wiggins of The Hope Church in Orlando. Special presentations were given by U.S. Rep. Val Demings and Orange County Public Schools Superintendent Dr. Barbara Jenkins.
Other elected officials and dignitaries in attendance included Orange County Commissioner Victoria P. Siplin, Orange County Sheriff John Mina and City of Orlando Commissioner Sam Ings.
During the keynote address, the A.A.C.C.C. president described the organization's goals as a "Vision of Faith for Partnership.''
Zak's presentation further encompassed the importance of banding together through public-private partnerships, developing greater team-building abilities, and public service through community initiatives to mobilize continued growth.
"I'm honored to be able to work alongside Pastor McRae as we further the agenda of impacting lives in our Central Florida communities," he noted.
Serving Greater Orlando as a pastor since 1988, Zak is CEO and founder of Need to Read, Inc., co-founder and former chairman of the Minority/ Women Business Enterprise Alliance, past president of the Orlando chapter of the Southern Christian Leadership Conference, and a former board member of the Central Florida YMCA and the Metropolitan Orlando Urban League.
McRae is founder and senior pastor of The Experience Christian Center. Launched in 2009, it is a family-based ministry with campuses in Orlando and Tampa.