BY ALEXIA MCKAY
FLORIDA COURIER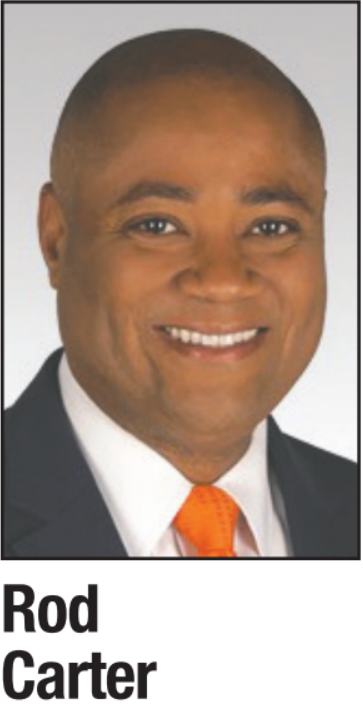 It's so hard to say goodbye – as Boyz 2 Men would put it – to one of Florida's most beloved journalists. Tampa anchor Rod Carter has bid farewell to the Tampa Bay area and will be starting a new chapter in North Carolina.
Carter, who worked at WFLA News Channel 8 in Tampa for more than 20 years, has accepted an anchor job at WNCN-CBS 17 in Raleigh. For the past few years, he was the weekend anchor and general assignment reporter for the Tampa station.
"I'm super excited about this next chapter, but will definitely miss my family here in Tampa," Carter tweeted on Feb. 28. "But thanks to the power of Zoom, I'll always be around."
Rod Carter Day
Carter emceed hundreds of community events in the Tampa area and was the master of ceremonies for major city events. Community involvement included serving on the board of the Crisis Center of Tampa Bay and the Community Leadership Board of the  American Diabetes Association.
On Friday, March 12, the City of Tampa gave Carter a special sendoff. Mayor Jane Castor declared that day, "Rod Carter Day."
"It's not every day we get to celebrate a gem like Rod," Castor tweeted. "Rod has kept Tampa residents informed for 2+ decades as an exceptional journalist and true talent."
Former Tampa Mayor Bob Buck-horn sent his farewell and congratulations as well.
"Been a great ride Rod," Buckhorn tweeted. "What are they going to do without your singing at Beulah Baptist. All the best my friend. Thanks for telling Tampa's stories so well."
Active in community
Aside from television, Carter was very active in the community. The Florida A&M University (FAMU) graduate is a member of the Gamma Eta Sigma Chapter of Phi Beta Sigma Fraternity, Inc.
Carter is also the former president of the Tampa Bay Association of Black Journalists and has also served as the chapter's treasurer. He is the current Region III director of the National Association of Black Journalists (NABJ).
He also coaches and guides upcoming journalists as a mentor. For years he has been the lead teacher for the NABJ-FAMU Journalism Short Course, instructing students at the Tallahassee-based university in broadcast during an intensive weekend course. 
Carter also participated in journalism mentoring programs at the University of South Florida. He was awarded the Kappa Tau Alpha Hall of Fame Award from USF's Zimmerman School of Advertising and Mass Communications.