Partnership with Dolphins, Lennar Foundation will help students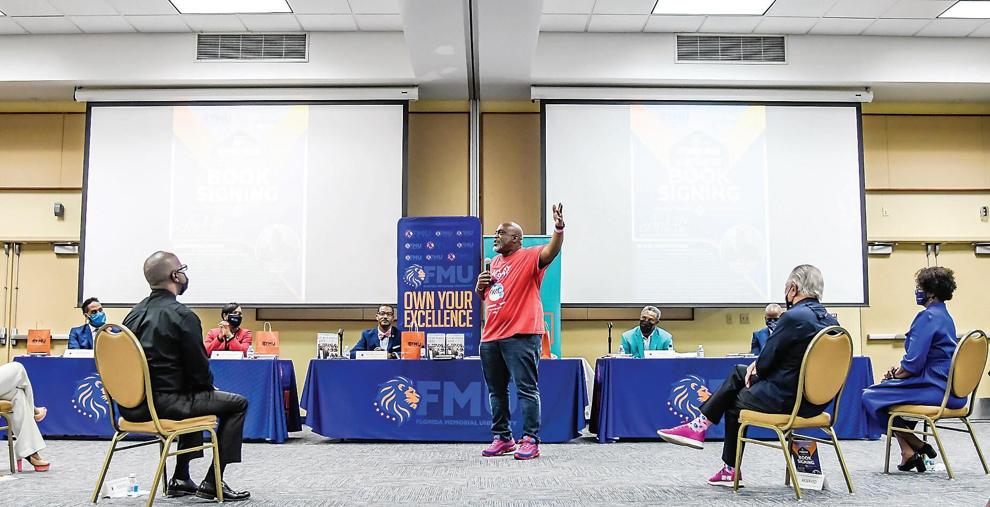 SPECIAL TO THE FLORIDA COURIER
MIAMI GARDENS – On April 27, Florida Memorial University (FMU) hosted a book signing event with the Florida Rights Restoration Coalition (FRRC), in partnership with the Miami Dolphins and Lennar Foundation.
Students from FMU's  Certificate Program in Construction Trades program had the opportunity to hear from FRRC President and Executive Director Desmond Meade and were provided a copy of his book "Let My People Vote: My Battle to Restore the Civil Rights of Returning Citizens.''
The memoir recounts Meade's personal journey and activism to restore voting rights to returning citizens who have served their terms following Florida's passage of Amendment 4 in 2018. Copies of the book given to students were purchased by the Dolphins from African American owned Pyramid Books in Boynton Beach. 
Second Chance Month
The Miami Dolphins Social Impact Committee previously donated $100,000 to the FRRC Fines and Fees Program in September 2020 to impact hundreds of people with past convictions, with a focus on Miami Gardens and the surrounding communities.
As part of this commitment, the Dolphins collaborated with FRRC to pay the fines and fees of four FMU students at the event. Additionally, through the Miami Dolphins Foundation Food Relief Program, meals were provided from iSeeFood Miami, a Miami Gardens based and African American owned restaurant.
These efforts align with Second Chance Month (April), a nationwide effort to raise awareness about barriers faced by those with criminal records who have after served their time and provides opportunities from them to reintegrate into society.
"I am profoundly appreciative for the collective impact that the Miami Dolphins and Florida Memorial University continue to have on empowering individuals with the skills, knowledge and resources needed to elevate their personal lives and economically transform their communities," said Florida Memorial University President Jaffus Hardrick.
Developing careers
Meade stated, "As a returning citizen, I personally know the positive impact of having hope, access to a job, and access to participate in our democracy. That's why I'm grateful to be a part of this wonderful opportunity.'' 
Added Miami Dolphins Senior Vice President of Communications and Community Affairs Jason Jenkins: "Through our partnerships with FMU and the FRRC, we are continuing to find intentional ways to support the Construction Trades Program students in developing their careers and improving their lives.
"Voter awareness and engagement is an important area of focus for our organization, and during Second Chance Month, we hope to further educate and help our community surrounding these initiatives."
Construction Trades grant
In January, the Miami Dolphins Social Impact Committee announced that it had joined the Lennar Foundation to fund Florida Memorial University's Certificate Program in Construction Trades.
This program, the first of its kind at a historically Black college in Florida, will play a key role in economic empowerment by providing equitable access for minorities in South Florida through employment in the construction business.
Tuition, along with meals and transportation, is free for all participants in the 12-week certification program.
The donation is in collaboration with Miami Dolphins players, the organization, the Lennar Foundation and an NFL Foundation social justice grant.
Participants can register for the program at www.fmuniv.edu/trade.