As Florida state prison inmate deaths soar, families feel dread.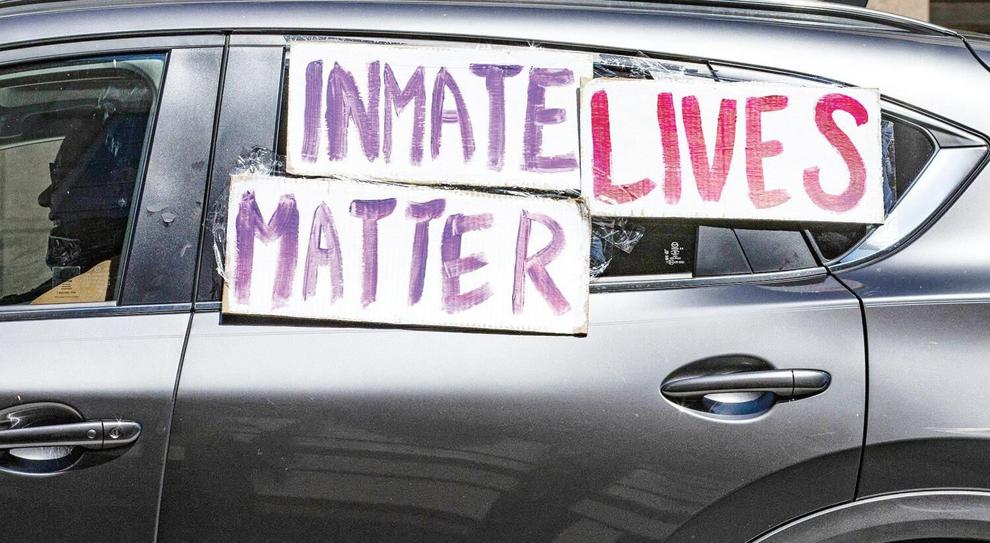 NEWS SERVICE OF FLORIDA
MIAMI – The Florida Department of Health on Wednesday said a dozen inmates died from complications of COVID-19 at eight prisons within the past week.
Dade Correctional Institution, Everglades Correctional Institution, Lowell Correctional Institution and South Florida Reception Center each had two inmates die after testing positive for the disease.
Columbia Correctional Institution, Florida Women's Reception Center, Graceville Correctional Institution and Wakulla Correctional Institution each had an inmate death.
Death toll thus far
A total of 46 inmates have died from complications of the disease, but no Department of Corrections employees have died, according to the state.
Two employees of contractors who work with the Florida Department of Corrections (FDOC) have died after contracting the virus, department spokeswoman Michelle Glady confirmed July 1.
July has proven to be the deadliest month in Florida's prison system since the start of the pandemic, with 22 inmates dying.
Thousands infected
As of the Florida Courier's Wednesday night press time, a total of 9,155 prisoners and corrections workers had tested positive for the disease, a jump from 8,432 cases reported on Tuesday. That total included 7,592 inmates.
Santa Rosa Correctional Institution and Lowell Correctional Institution saw their caseloads increase by more than 100 overnight. Santa Rosa had 700 inmate cases and Lowell had 629 inmate cases as of Wednesday. Columbia Correctional Institution has the most cases, with 1,258 inmates known to have been infected as of Wednesday.
As the case count and deaths accelerate, inmates' families and advocates wonder if the
FDOC has an alternate plan to prevent and treat COVID-19. They say whatever the prison system is doing doesn't seem to be working.
"If no one takes notice, they are going to kill our loved ones," said Cynthia Cooper, whose husband is incarcerated at Columbia Correctional Institution in Lake City, where at least three men have died. "I never thought I'd see the day when I was afraid of something more than him just being in prison. But it's come to that."
Deaths not publicized
At first, inmate deaths weren't even acknowledged by FDOC until the News Service of Florida revealed them after obtaining data from a local medical examiner.
When it comes to deaths, the state Department of Health updates a weekly data set with a total number of inmate and staff deaths sorted by facility. The data – which was not up to date as of July 27 – does not identify the deaths by individual inmate.
But data logged by the state's medical examiners and obtained from the Florida Department of Law Enforcement by the Miami Herald show a fuller picture of the inmates who have died of COVID-19, beyond the facility at which they were incarcerated.
On July 15, for example, medical examiner data shows that an otherwise healthy 32-year-old woman incarcerated at Lowell Correctional Institution in Ocala was admitted to a local hospital with shortness of breath. She was diagnosed with pneumonia and COVID-19 and died 10 days later, July 25. She is the youngest inmate to die of the disease thus far. The 32-year-old's death was one of three recorded at Lowell, a prison where testing only recently began to ramp up.
One of the other deaths was 75-year-old Martha Beatty, who died July 24, according to inmate advocate Debra Bennett, who served at Lowell with Beatty for five years and knew her well.
Bennett, who now runs a nonprofit that coordinates donations to women's prisons, said she fears things will only get worse if the state doesn't change course.
"With every new death, it's apparent that they're failing," Bennett said. "They are just issuing death sentences …(Beatty) was a lovable old woman and she's dead because of COVID."
'Outstanding' care
Department of Corrections spokesman Rob Klepper said in a statement that the department is "closely aligned" with Centers for Disease Control and Prevention guidelines for prisons, and that the department's managed-care contractor, Centurion, has brought in additional staff to hard-hit prisons to provide additional testing and resources.
"The level of care and attention they have provided to the inmate population has been outstanding," Klepper wrote, despite years of complaints about the quality of prison healthcare.
Best practice is release
Experts say the most efficient way to curb COVID-19 infections and deaths is to reduce the prison population so that social distancing can be better enforced.
In Florida, groups like Families Against Mandatory Minimums and lawmakers such as St. Petersburg Republican Sen. Jeff Brandes have been advocating for policy around releasing ill and elderly inmates or even furloughing them until COVID-19 conditions change in the facilities.
In states like Louisiana, Oklahoma, Kentucky and Ohio, releases have been part of the COVID-19 strategy, Denise Rock of Florida Cares noted in an impassioned letter to Gov. Ron DeSantis, who is the only official who holds the power to make such a decision.
"For no discernible reason, Florida has not joined them," she wrote. "Untold numbers will die unless you intervene … I am begging for your help."
DeSantis did not respond. When asked at an April 2 news conference about the idea, DeSantis said releasing felons wouldn't "make things any better."
"Some of these other states have really been releasing a lot of people. Some of these people are dangerous," he said. "I don't see how in a time of pandemic, where people are on edge already, (that) releasing felons in society would make a whole lot of sense."
Father infected
While no officers are reported to have died of the disease yet, medical examiner data show one death of a man who was living with his son, a corrections officer.
Both the son and his wife tested positive and were hospitalized for COVID-19 on June 19. On June 20, the 82-year-old father of the officer was found dead. The medical examiner reports he had COVID-19.
"Officers are throwing up in the corner, still being told they are OK to work," Florida Police Benevolent Association's James Baiardi, who represents corrections officers, told the Herald/Times last week.
"They have no feeling of protection. … They feel like nobody cares about them."
Samantha J. Gross of the Miami Herald / TNS contributed to this report. Information provided by the News Service of Florida was also used.