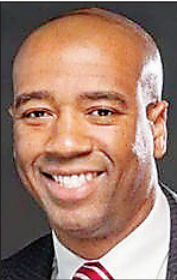 TALLAHASSEE – Enterprise Florida President and CEO Jamal Sowell will step down as the leader of Gov. Ron DeSantis' business-recruitment efforts this month to prepare for specialized training with the U.S. Navy Reserve.
Christina Pushaw, a spokesperson for DeSantis, called Sowell "indispensable" in making Florida "the beacon of opportunity and prosperity for the entire country."
"He has done outstanding work as the president and CEO of Enterprise Florida since January 2019, leading EFI through the once-in-ageneration economic challenges of the COVID-19 pandemic," Pushaw said in an email.
"While I have served in Afghanistan as a Marine Corps Officer and now continue to serve as an officer in the Navy Reserve, I still feel compelled to the call of service," Sowell wrote in a Sept. 30 letter to DeSantis.
Sowell was the Port Tampa Bay chief of staff in December 2018 when tapped by DeSantis to run Enterprise Florida.