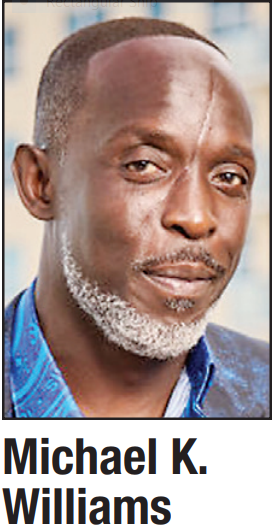 Monday brought the devastating news that actor Michael K. Williams had died, at the all-too-young age of 54. Known best for his complex and terrifying performance as Omar Little on "The Wire," Williams had so much incredible work in front of him, including the second season of his unscripted Vice series, "Black Market," which was still in production.
He was nominated for an Emmy this year for his work on HBO's "Lovecraft Country," with the awards ceremony taking place on Sept. 19.
Williams leaves behind an incredible body of work, and while social media has been filling up with tributes and memories from fans and collaborators, what's striking is how the actor made every performance indelible.
While he burst onto the  scene with his memorable role on "The Wire," Michael K. Williams was so much more than Omar. In his memory, here's a list of his best work available to stream. Whether it's a revisit or a first watch, you won't be disappointed.
'The Wire'
David Simon's searing American epic "The Wire" aired on HBO from 2002-2008, one of the early entries in the era of "Peak TV." Though it's always been heralded as a must-watch show, it's so quietly fantastic that it can sometimes even feel underrated.
Williams starred as the fearsome stickup man Omar Little, who kept shotguns under his long duster while whistling "A-Hunting We Will Go." Known for his mantra, "a man's gotta have a code," Omar is a villain inspired by classic Westerns and noir, born from the streets of Baltimore, and is one of the most significant characters in TV history.
The five seasons of "The Wire" demand your attention, for the first or a repeat viewing. Stream it on HBO Max.
Williams had a long career on HBO, starting with "The Wire" (though he also appeared on an episode of "The Sopranos" prior to that), then going onto Terence Winter's Martin Scorsese-produced Prohibition era series, "Boardwalk Empire."
Williams played the real-life character of Chalky White, the leader of an African American organized crime syndicate in Atlantic City, opposite Steve Buscemi's Nucky Thompson. Stream the whole series on HBO Max.
'The Night Of'
Also on HBO Max, two Emmy-nominated performances by Williams: one in the Richard Price-scripted miniseries "The Night Of," about a young man, Naz (Riz Ahmed), who stumbles down a nightmarish rabbit hole into the labyrinth of the New York City justice system and Rikers Island. Williams plays Freddy, a foreboding inmate who takes Naz under his wing, with mysterious motivations.
Also, the 2020 series "Lovecraft Country," in which Williams co-stars as Montrose Freeman, the missing father of Atticus (Jonathan Majors) who sets off on a journey to find him and uncover his secrets.
'When They See Us'
Williams was also Emmy-nominated for his role in "When They See Us," Ava DuVernay's powerful mini-series about the Central Park 5.
Williams portrayed Bobby McCray, the father of accused teen Antron (Caleel Harris), who misguidedly convinced his son to sign a false confession, which led to a fallout between the two. Stream the award-winning series on Netflix.
In 2011, Williams paid a visit to the Criterion Closet, where he picked up a copy of Steve McQueen's "The Hunger," mentioning that he'd heard great things about the up-and-coming British director.
He would go on to co-star in Mc-Queen's Best Picture-winning film, "12 Years A Slave" just two years later. Stream it on Hulu or AMC+ or rent it for $3.99 on other digital platforms.
For some lighter fare, Williams co-starred in three seasons of the '80s buddy crime caper series "Hap and Leonard," opposite James Purefoy. That's available to stream on Netflix.
He also had a guest-starring role on Dan Harmon's college comedy, "Community," playing Professor Marshall Kane, on three episodes in Season 3. Stream that series on Amazon Prime.