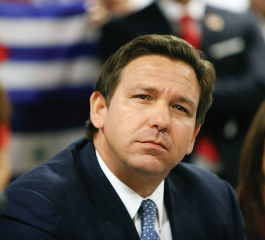 TALLAHASSEE — Gov. Ron DeSantis is calling on the Legislature to spend more than $1 billion to lower the state's gas tax.
At a news conference at a Buc-ee's gas station in Daytona Beach, the governor said it was incumbent on Florida to fight rising prices — which the governor blamed on the policies of President Joe Biden.
The Legislature can do its part by cutting the state gas tax by 25 cents per gallon, DeSantis said.
"We want to protect Floridians as much as we can against the inflation that we're seeing," the governor said.
Agriculture Commissioner Nikki Fried and U.S. Rep. Charlie Crist, two Democrats who want to challenge DeSantis in the 2022 governor's race, called for the governor to take action on the state gas tax last week. Crist called on the governor to temporarily freeze the state's gas tax, and Fried wrote a letter to Attorney General Ashley Moody asking her office to investigate "anti-competitive, potentially illegal activity by oil and gas companies."
The legislative session begins Jan. 11.