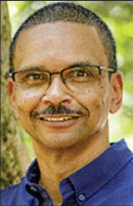 Gov. Ron DeSantis on Tuesday named Shawn Hamilton secretary of the Florida Department of Environmental Protection, a position Hamilton has held under an interim title since June.
Hamilton replaced former Secretary Noah Valenstein, who left the job in early June after four years.
A news release Tuesday about Hamilton's selection didn't mention the state Cabinet, which has jointly approved the appointments of past DEP secretaries.
DeSantis suggested at a June 15 Cabinet meeting he would take precedent-setting action by seeking approval of the new DEP secretary from the Legislature, as is done with many other agency heads.
The governor's office pointed to a part of the state Constitution dealing with executive departments. That part of the Constitution says: "When provided by law, confirmation by the Senate or the approval of three members of the Cabinet shall be required for appointment to or removal from any designated statutory office."
Agriculture Commissioner Nikki Fried countered at the June meeting the DEP appointment requires Cabinet approval.
DeSantis said Hamilton has a "strong, proven record of environmental stewardship and management of award-winning state parks and conservation lands."
Hamilton has been with the department since 2007, starting as a public affairs manager in the agency's Northwest District office and moving to assistant district director in 2010 and district director in 2011. He was promoted to deputy director last year.
Valenstein is now a senior adviser for the American Flood Coalition and presidential fellow for The Water School at Florida Gulf Coast University.