Rattlers and Wildcats square off Saturday in the Florida Classic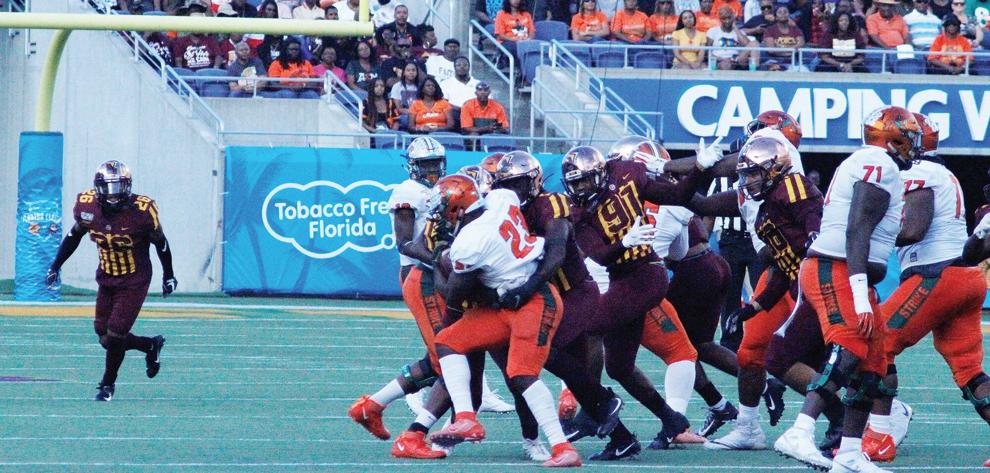 Once again, Florida's two largest Historical Black Colleges and Universities (HBCUs) will battle in the Florida Blue Florida Classic.
The Bethune-Cookman University Wildcats and the Florida A&M University Rattlers tangle at Camping World Stadium in Orlando on Saturday, Nov. 20, at 3:30 p.m. The game airs live on ESPN Plus.
"There's not a whole lot needs to be said. Records go out the window. It's a great football game, great contests be- tween two great institutions and a great platform for these young men to showcase their talents," said Terry Sims, Bethune-Cookman's head football coach.
Willie Simmons, Florida A&M's head football coach, stated, "It's a big game with a lot at stake. This is always the biggest game of year regardless of records and standings. Bragging rights are on the line. They have them and we want to get them back."
Nine straight for B-CU
The Wildcats have won nine straight in the series. The game wasn't played last year due to the COVID-19 pandemic.
Bethune-Cookman (2-8, 2-5) has struggled this season, and lost some close games but have won two straight games.
"I think we have always been resilient. Our guys have worked hard. We haven't finished games the way we wanted to. I don't think anyone who has played us has called us a pushover. We are now cleaning things up and its helping," said Sims. 
Florida A&M (8-2, 6-1) has won eight straight games and is ranked No. 23 in the latest STATS Perform Football Championship Series top 25 poll.
They're also N. 25 in the latest FCS coach's poll.
FAMU's only losses came to SWAC East Division champ and No. 17 ranked Jackson State University on Sept. 5, and No. 19 ranked FCS member South Florida University on Sept. 18.
The Rattlers could earn a spot in the FCS playoffs with a win.
"If you can find many teams across the country with one loss to a ranked team by one point, then they are as deserving and more. Our resume speaks for itself. You can say what you want about strength of schedule," expressed Simmons.
"That comes from people who don't watch SWAC football and don't know the level of play we have in this conference. We have good football teams that have done well against other conferences."
Underestimated teams
Simmons also touched on how the HBCU FCS conferences, the Mid-Eastern Athletic Conference (MEAC) and SWAC, often are left out of the FCS playoffs.
"There is misconception that we aren't eligible, but we are. We don't get an at-large bid because of the Celebration Bowl. We have deserving teams," Simmons explained. "We don't get the national recognition. It's an overall lack of respect for our conferences because not everyone is associated with our level of play."
Meanwhile, both teams have the upmost respect for each other.
"B-CU is a dangerous foot- ball team and has always been. They play hard. They are talented. Their record doesn't indicate the type of team they are. We know who we are facing. We are going to be prepared to play our best football," said Simmons.
Sims echoed, "FAMU has an explosive football team on offense, defense and special teams. They have plenty of offensive weapons. Their defensive line can stand up against anybody, they have some good cover guys in the secondary and their kicking game is solid. It's going to be a tough and physical game. It should come down to the wire."
The Florida Classic is a big economic boost for local businesses and entrepreneurs, and a family affair for many, offering entertainment, fellowship, fun and more.
It's estimated that the Classic brings in an estimated economic impact as low as $700,000 and as high as $30 million.
From 1999 to 2006, the Florida Classic drew record crowds of more than 70,000 fans, including an individual game record of 73,358 in 2003. It has surpassed the Bayou Classic between Grambling State University and Southern University as the largest football game between Historical Black Colleges and Universities.
Attendance had dropped to 32,317 in 2012 but rose to 55,730 in 2019.
Throughout the Classic's history, which officially began in 1978, more than two million fans have watched the series.
In the past, the game has been played at Daytona Beach International Speedway and Tallahassee, as well as in Tampa.
Florida Blue is its title sponsor. Other sponsors include Ford, Tobacco Free Florida, U.S. Army, Visit Orlando, Orange County, McDonald's and the City of Orlando.
For more information, visit floridaclassic.org.