ESPN's Tiffany Greene talks Florida ties, life as a commentator
Turn on your TV or hop on your tablet any given college football weekend and you're likely to hear and see a familiar face.
All Tiffany Greene ever wanted to do was become a sports newscaster. And today she is living that dream as ESPN's first Black woman to call college football (CFB).
"I literally have an early-years yearbook when I was in kindergarten that says, 'What do you want to be when you grow up?' and it says, 'sportscaster,'" she shared with the Florida Courier during a virtual interview. "And so all of my effort and energy have moved in that direction."
FAMU grad
Greene is a Florida A&M University (FAMU) broadcast journalism graduate with deep Florida ties. The Tampa native attended Hillsborough High School, where her husband, Aaron Berry, is currently the assistant principal. The couple has two sons – Bryson, 4, and Aaron,1.
"Tampa is the perfect place. For me, we're home of champions," she said referring to the Stanley Cup champions, the Tampa Bay Lightning, and the Super Bowl champions, Tampa Bay Buccaneers. "And also, this is where my village is rooted."
Her father, Dayle Greene, is one of the first African American on-air talents at FOX's WTVT-Channel 13 in Tampa and the first Black news anchor in the area. Mr. Greene was honored by the Tampa Bay Association of Black Journalists in 2016. Her father and mother, Patsy, also reside in Tampa.
Her journey with ESPN started in 2012 as a college football sideline reporter. These days, she is in the booth, commentating plays on the football field, specifically the Southwestern Athletic Conference (SWAC).
Greene had the pleasure of commentating FAMU's SWAC debut against Jackson State in September. Both FAMU and Bethune-Cookman University joined the conference last year. Although FAMU lost the game 7-6, it's the overall Black college experience and spotlighting it's influence that makes her job memorable and impactful.
The Black student-athlete
Greene seeks to not only highlight the Black athlete, but also the Black student. She stressed that these are the stories that need the exposure.
"You look at HBCUs, and just the way students have been able to impact all areas of life, from the business world to politics to pro sports," she said. "These young men that I get a chance to call on a weekly basis, they're legit guys. They have the opportunity to play in the NFL, but they also have an equal chance and shot at making an impact in our society."
The young men that Greene referred to are men such as Aqeel Glass of Alabama A&M. Glass is a civil engineering degree holder and is currently working on his master's degree. He's also one of the top quarterbacks in the NCAA Division I Football Championship Subdivision (FCS).
"You think about the job that Willie Simmons has done helping to re-establish the FAMU brand, Deion Sanders with Jackson State and their rich legacy and tradition," Greene said about the teams' coaches.
'Ripe time' for HBCUs
Understanding her own monumental media platform, she added, "It's a ripe time and it's on us as HBCU alumni, and it's on me from someone who's on the inside, to hold companies' feet to the fire to say we have to do more, we need more exposure."
More major companies and brands are realizing the true value of historically Black colleges and universities (HBCUs). And it's a vibe that Greene has observed and makes sure to draw attention to each time she mics up.
"When you talk about HBCU football and you look at the number of Pro Football Hall of Famers that have come through historically Black colleges and universities, it's beyond impressive," she said. "Companies are paying greater interest or attention to Black culture, and part of that is HBCUs finally getting a chance to further highlight what we've already known, which is greatness and Black excellence."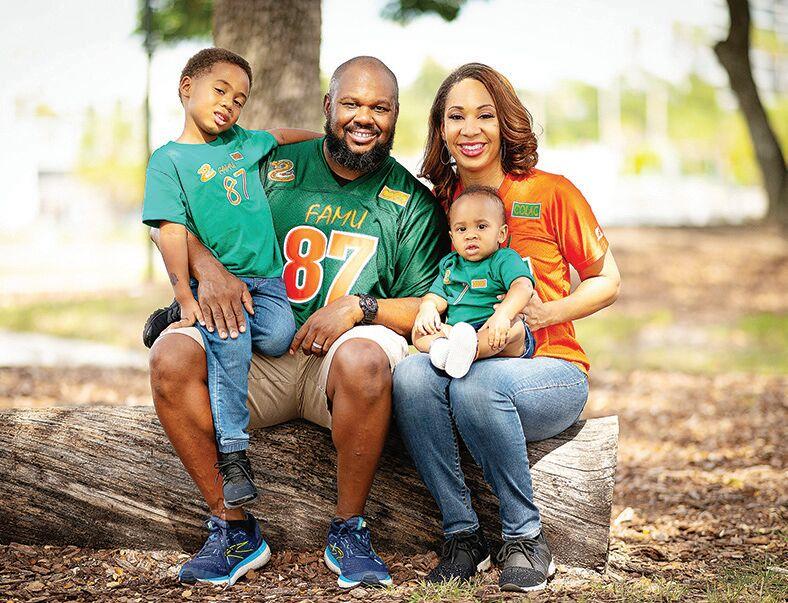 Enduring Rattler impact
The impact and legacy of her HBCU experience is also never behind her. Greene and her husband were King and Queen of Orange and Green on the Hill.
Greene called it a great "breeding and training ground" that taught her self-awareness and confidence.
"Every time I think back to FAMU, which is what makes me want to give and work hard for FAMU and promote them in any and every way that I can, is because of what they poured into me," she said. "As an 18-year-old student walking onto campus, and the woman that I developed into after leaving the highest of seven hills, it's invaluable."
Paving the way
Not only is Greene working to do her part in sharing the impact of HBCUs in sports and beyond, she is also ensuring that she will not be the only one. Growing up, the women of color who were journalists that influenced her included ESPN's Pam Oliver and former ESPN sportscaster Robin Roberts, who currently anchors ABC's "Good Morning America.''
"They [Oliver and Roberts] helped to pave the way for me to be able to encourage, be an example and show that Black women are successful and can be successful in all walks and areas of life," she expressed. "Hopefully, young girls and boys that are Black and brown can also hopefully look on television now and say that of me because they opened the door."
One of her long-term goals is to commentate NFL and NBA games on a consistent basis.
When she's not on the field, she aspires to make an impact in her community on a Black Wall Street level. Greene expressed interest in Black enterprise and "buying back the block" as she called it.
She's also part of several civic and social organizations, including a member of Alpha Kappa Alpha, Sorority, Inc. And on a personal note, as a mother, she strives to "raise humble and grateful and intelligent and loving Black boys who will one day go on to be kings."
"It is definitely a dream I'm living it right now," she reflected on her life up to this point. "And anything that happens on top of it is just icing on the cake."