Despite the score, B-CU and FAMU fans say they were glad to be reunited for the annual Florida Classic.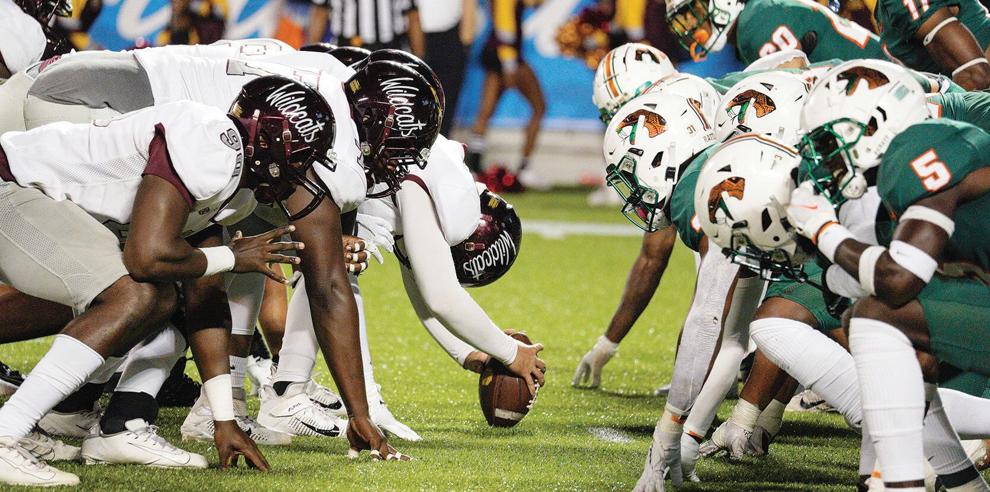 In the 2021 rendition of the Florida Blue Florida Classic, Florida A&M University took down Bethune-Cookman University 46-21 in front of a crowd of 54,198 at Camping World Stadium in Orlando on Nov. 20. 
The Rattlers' win snapped the Wildcats nine-game winning streak in the series.
Florida A&M (9-2) was awarded with an atlarge playoff berth in the FCS playoffs due to their successful this season. The Rattlers travel to Southeastern Louisiana (8-3) on Nov. 27 in the first round.
The Florida Classic is an annual football game between Florida's two largest Historical Black Colleges and Universities (HBCU).
It has become a sought-out annual event for the schools, bands, teams, alumni, fans, businesses, Orlando, Central Florida, Florida, and the nation.
Most were glad that the event was back after being knocked out last year because of the coronavirus pandemic.
Vendor: A great start
It is estimated that the Florida Classic brings an estimated economic impact of anywhere between $700,000 to $30 mil- lion to Orlando and the surrounding area. Many businesses participated for a chance to make a decent buck.
Maurice Knight was still selling FAMU themed T-shirts through his M3 Sports-wear clothing business on Tampa Avenue just after the game. Knight is based in Baton Rouge, Louisiana.
"This was a very good experience to get back to somewhat normalcy after COVID. It's not quite back to normal, but it's a great start from where we were," responded Knight.
"The Classic has always been a great event. It's not where it was before the pandemic, but it's better that it is going on than not having it."
'Beautiful Black people'
For some, like University of Central Florida alum Moe Greenidge, it was a first. He attended with his brothers of Phi Beta Sigma Fraternity.
"This is my first one. I am representing my fraternity. We are trying to come out and celebrate as people. We want to give back to the community, spread service and spread cheer," expressed Greenidge.
"I see a lot of beautiful Black people out here who are peacefully getting together and having a good time. We just want to have a good time and enjoy ourselves."
Some, like B-CU alum Sabrina Caldwell, returned to the event after years being away.
"I think this is a beautiful experience for every- one. It's not about just rooting for your team but the friendships and establishing new friendships. I am truly having an amazing time," Caldwell said.
'Family experience'
Frilla Severance of Fort Lauderdale has been at- tending the Classic with friends and family since 2009, rooting for FAMU.
"I've come every year since 2009. I love it. I love the feel of it. I love the family experience. It feels like a great homecoming and a family reunion. Bethune is our rival, but we still show them love. They show us love. It's a respectful thing," commented Severance.
Fans on both sides were also enjoying themselves and the experience.
Marcus Broadfield of Miami is a B-CU alum and member of Omega Psi Phi Fraternity.
"I love it. I have since 2006 as a freshman at the great Bethune-Cookman. Here we are 15 years later. We lost, but it's OK. We had nine straight wins, but we took an 'L'. It's OK," responded Broadfield. 
FAMU grad Pete Cole echoed, "This is a nice event. We are happy to be out after the COVID. Everyone is out having a great time. It's good to have and be back. It's also great that FAMU won. It's our year.
Despite the outcome, many still have a genuine love for both sides.
"It's good to get the W. I am ecstatic. My boyfriend is a Wildcat, so I can't wait to talk junk," said Severance.
Caldwell added, "I was excited about the game. We didn't win, but it's still love."