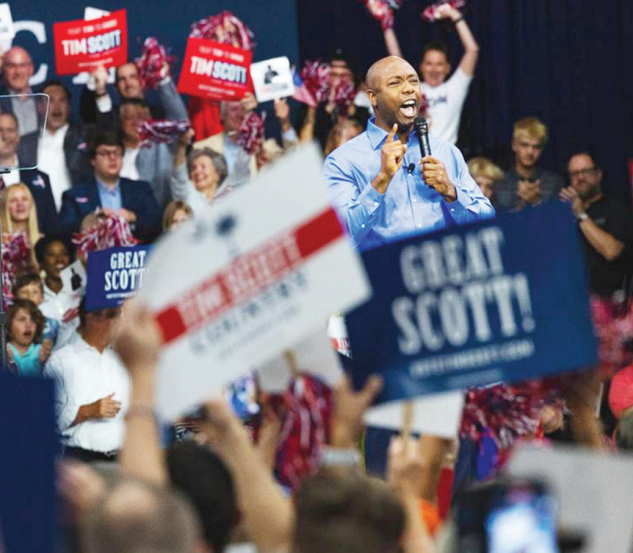 U.S. Sen. Tim Scott grew up poor, and his divorced mother worked 16-hour days to raise him and his older brother, Ben.
In his official 2024 presidential launch, South Carolina's junior senator portrays his life not of struggle but one of opportunity: he nearly failed out of high school, started his own business and was elected to statewide political office.
But is that positive message enough to convince Republican Party voters to abandon the party's frontrunner, former President Donald Trump? Scott, 57, thinks so.
"We live in the land where it is possible for a kid raised in poverty by a single mother in a small apartment to one day serve in the people's House, and maybe even the White House," Scott said. "This is the greatest country on God's green Earth."
Scott formally launched his 2024 presidential bid Monday at his North Charleston alma mater, Charleston Southern University, becoming the second South Carolinian to run for president, behind former Gov. Nikki Haley.
Scott is the only Black Republican in the U.S. Senate and the second Black candidate to launch a bid after conservative radio talk show host Larry Elder.
Scott joins a growing race that so far includes high-profile hopefuls Trump, Haley, former Arkansas Gov. Asa Hutchinson and entrepreneur Vivek Ramaswamy. Florida Gov. Ron DeSantis is expected to jump into the race this week. Former Vice President Mike Pence also is considering a run.
Scott,  who, like Haley, previously said he would not run for president should Trump seek reelection, will campaign in early voting states Iowa and New Hampshire this week as he works to expand his name ID. That'll be helped, in large part, because of a recent whopping  $5.5 million in television  ad buy, scheduled to air in Iowa and New Hampshire through late August.
Ahead of Scott's Monday launch, U.S. Sen. John Thune, a South Dakota Republican and the No. 2 Republican in the U.S. Senate, backed Scott's bid, and  Axios reported a political action committee supporting Scott added veteran Republican strategist Jesse Hunt as a senior communications adviser.
Trails in polls
Scott, however, will have considerable work to do to break through in a race that includes Trump, Haley, who tapped Scott to first serve in the Senate, and likely DeSantis.
Scott has trailed in most national and early primary polls, for example, showing him in fifth place with 4% in the most recent ABC News/Washington Post poll.
In South Carolina, No. 4 on the presidential nominating calendar in February, Scott has more support.
The latest Winthrop University Poll showed Scott with 7% of support among S.C. Republican voters, putting him in fourth behind Trump with 41%, DeSantis with 20% and Haley with 18%. The same poll showed Scott with a 47% job approval rating, including 69% among S.C. Republicans.
Scott, who last won reelection in 2022 with 63% of the vote, enters the race with nearly $22 million in the bank — the highest of any presidential candidate in American history, senior campaign officials said.
"Tim Scott has a war chest that many other candidates in this race right now wish that they had," said Dave Wilson, a longtime South Carolina Republican strategist.
Consistently conservative
Scott, who owned his own Allstate Insurance office in the 1990s, formerly served on Charleston County Council, then was elected to one term in the South Carolina House, 2009-2010, before he was elected to Congress as part of the conservative tea party wave. In 2013, Haley appointed Scott to the U.S. Senate to complete the term of former U.S. Sen. Jim DeMint.
Senior campaign officials say Scott is the most consistently conservative candidate in the race, pointing to his "A" ratings from the  National Rifle Association and the anti-abortion Susan B. Anthony  Pro-Life America organization.
It's that conservative voting record, however, which could keep Black voters backing Scott over Biden in 2024, some say. A recent  Pew Research Center  showed one in 10 Black adults identify with or lean toward the Republican Party.
Black voters tend to vote Democratic, but they are not necessarily a monolith, said South Carolina-based Democratic strategist Antjuan Seawright.
"Black voters are certainly in tune with those that fight for their shared values," Seawright said. "Tim Scott has a math problem."
Ken Battle, 67, of North Charleston, who retired from the Air Force Reserves, has volunteered for previous Scott campaigns.
"Tim is that candidate that can unify this country," Battle said. "And when he says genuinely it's about God, family and country, he means it."