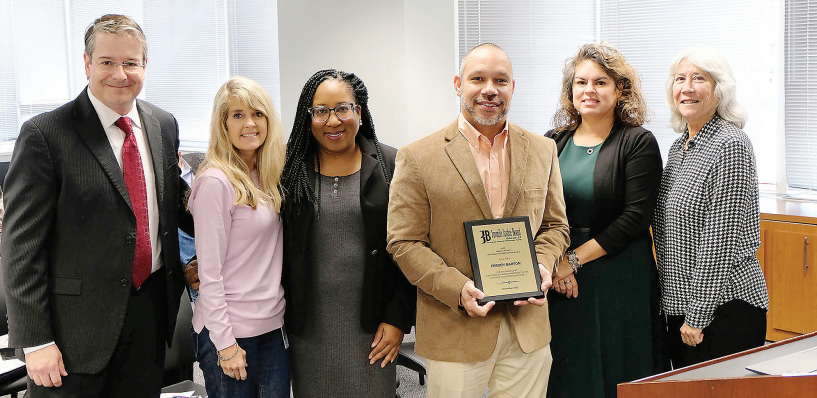 TAMPA – Safe & Sound Hillsborough's Executive Director Freddy Barton was recently honored by the Juvenile Justice Board in Circuit Thirteen with the distinguished Julianne M. Holt Service Excellence Award.
Annually, the board recognizes an outstanding individual working with the juvenile justice system who has exhibited an unwavering commitment to serving vulnerable at-risk youth and their families with a goal of transforming their lives for the better.
Recipients are the volunteers, mentors, and agency staff members who go above and beyond in their dedication to serving Hillsborough County's youth.
"It is an honor to be recognized for the work being done at our Reporting Center, working hard to help our young men in the juvenile justice system turn their lives around, and for our efforts to help reduce gun violence," Barton said.
"I am thankful for the staff that help make things happen, our Leadership Council that provided guidance and accountability, our community partners that are unwavering in their support, and most of all, our youth for trusting us when they have been let down time and time again. The work is far from over and we have much more to do. But, together, the village will win!"  
The goal of the Reporting Center is to deliver educationally focused programming and services with structured activities, pursuant to a youth's court order, that prevent recidivism and ensure continued participation in any resources offered.  
Youth are court ordered to attend the Reporting Center and live in Hillsborough County, have committed a non-violent offense and cannot be a danger to themselves or the community.
About Safe & Sound
Established in 2013, Safe & Sound Hillsborough is a public health and violence prevention collaborative that aligns community and professional stakeholders to develop a comprehensive prevention and intervention approach that supports our mission of working together to build strong families, safe schools, and healthy neighborhoods.  
The collaborative includes the mayors and police departments of Tampa, Plant City, and Temple Terrace; Hillsborough County Sheriff's Office; School Board of Hillsborough County; 13th Judicial Circuit Court; State Attorney's Office; Public Defender's Office; Hillsborough County government; Children's Board of Hillsborough County; Hillsborough County Health Department; University of South Florida; and numerous agencies and faith-based organizations that do vital work in our community.