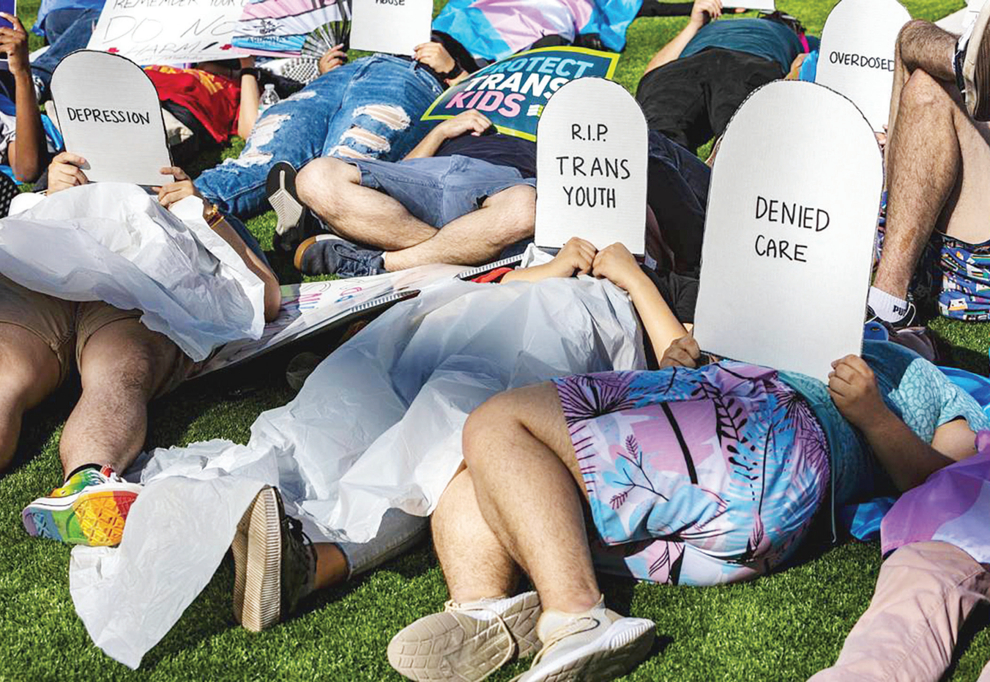 TALLAHASSEE – Gov. Ron DeSantis' administration has authorized more than $1.3 million for legal and expert-witness fees in the state's effort to ban Medicaid coverage of treatments for transgender people, a review of state records by The News Service of Florida shows.
The Agency for Health Care Administration, which largely oversees the Medicaid program, last year issued a rule banning coverage for hormone therapy, puberty blockers and surgery, drawing pushback from the LGBTQ community. The treatments are used for people with gender dysphoria, which the federal government defines as clinically "significant distress that a person may feel when sex or gender assigned at birth is not the same as their identity."
Four plaintiffs, including two children, filed a federal lawsuit challenging the rule, arguing that the prohibited treatments are "medically necessary, safe and effective" for gender dysphoria.
The state agency in July issued a nearly $1 million contract for legal services and costs in the litigation.
According to state records, the DeSantis administration also was willing to pay up to $322,323 for "expert witness" services from seven doctors and researchers who contributed to an AHCA report or appeared at a public hearing on the issue. The researchers received a total of $42,621.83 through purchase orders issued between May and August last year.
Many of the state's experts are affiliated with religious organizations or have endorsed "conversion therapy," which seeks to change sexual or gender identities of LGBTQ people. The practice has been discredited by major parts of the medical community.
The state agency paid Quentin Van Meter, an Atlanta-based pediatric endocrinologist, $12,417.28 in July, the records show. Van Meter is board president of the American College of Pediatricians, which says on its website that "transgender interventions harm children." That group is different from the American Academy of Pediatrics, which supports gender-affirming care.
The state also paid $9,600 to James Cantor, an American-Canadian psychologist. Cantor also has worked as an expert for the Alliance Defending Freedom in helping defend a West Virginia ban on female trans athletes participating in girls' school sports.
The expert witness costs in the case are being run through the Holtzman Vogel Baran Torchinsky & Josefiak, PLLC law firm. The Agency for Health Care Administration in July approved a $950,000 contract with the firm to represent the state in the litigation. The firm previously inked separate contracts totaling $28,830 for "legal counsel and representation in matters including but not limited to Medicaid rulemaking and subsequent litigation." The state has paid Holzman $220,938.50 thus far, the records show.
Treatments called 'experimental'
The disputed rule followed the June 2 AHCA report, which included research by the state's experts. The report said the Medicaid program "has determined that the research supporting sex reassignment treatment is insufficient to demonstrate efficacy and safety." Treatment such as puberty blockers and hormone therapy are "experimental and investigational," concluded the report, which was condemned by national medical and legal researchers.
A report issued by seven scientists and a Yale law professor blasted the state's study, saying its "conclusions are incorrect and scientifically unfounded."
An email exchange released late on Jan. 20 by plaintiffs in the lawsuit also showed that an Agency for Health Care Administration analyst who plays a role in determining "generally accepted professional medical standards" for the state pushed back against the state's study.
The study "did not come through the traditional channels and was not handled through the traditional" process, agency analyst Jeffrey English wrote in an email to Christopher Cogle, chief medical officer for Florida's Medicaid program.
"I do not cherry pick data or studies and would never agree to if I were so asked," English wrote. "All I can say about that report, as I have read it, is that it does not present an honest and accurate assessment of the status of the current evidence and practice guidelines as I understand them to be in the existing literature."
The Medicaid rule is among a number of actions DeSantis, who is widely seen as a Republican presidential contender in 2024, and other state leaders have taken to target transgender treatment, especially for minors. State medical boards recently have moved forward with rules to ban doctors from using hormone therapy, puberty blockers or surgery to treat children who have been diagnosed with gender dysphoria.
Yale School of Medicine professor Meredithe McNamara, one of the authors of the rebuttal to the state's study, called Florida taxpayers' expenses in the Medicaid rule "a waste."
"It turns out, the manufacturing of lies is expensive. The DeSantis administration claims to target gender-affirming care because they say covering it is a misuse of state resources. But the lavish spending on a blatant anti-trans agenda shows the hypocrisy."