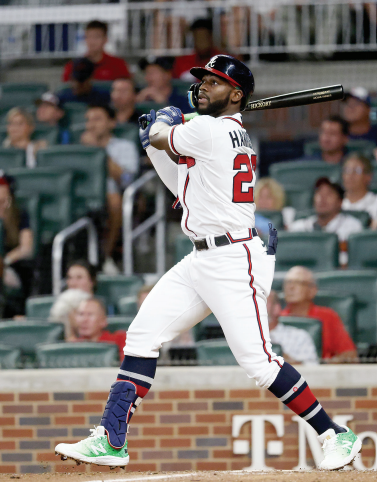 As a boy, Michael Harris would wake up and immediately grab a ball. He would start throwing it – sometimes at the wall, sometimes at his father, Michael Harris Sr. But he always had a ball from the moment he started his day.
"Mike, stop," the dad would say after his son would keep hurling the ball around the house.
Young Michael would keep throwing it. He was quiet, so this was his way of asking to play.
"OK, let's go outside," his father would say.
The work, which has since paid off, started there. Years passed.
On a day this May, the young Harris walked into Truist Park for the first time, marveling at all he saw as his dreams came true. Months later, the story has become even more heartwarming for the Stockbridge High graduate.
Harris, an Atlanta-area native and lifelong Braves fan, won National League Rookie of the Year for his outstanding 2022 season for his hometown team. The center fielder finished ahead of teammate Spencer Strider (second place) and St. Louis' Brendan Donovan (third) in voting conducted by members of the Baseball Writers' Association of America.
David Justice, the 1990 NL Rookie of the Year for the Braves, announced the winner on live television.
"It was kind of crazy," Harris said of finding out on TV that he won the award. "I just tried to come up and do my job, and to end the season and get this award, it means a lot."