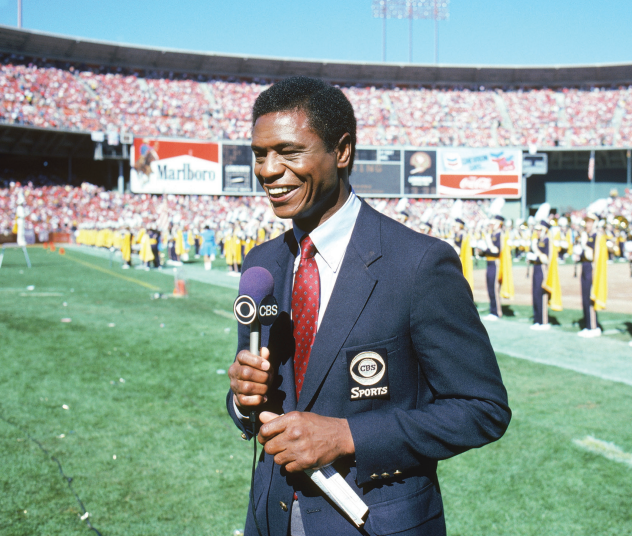 "Paper Head," they would call him, mostly because athletes so love to bust on each other over any perceived idiosyncrasy, but Irv Cross' nickname came just as assuredly from the everyday ignorance of things not yet understood.
A couple of things happened this week to illuminate a kind of cultural then-and-now of  NFL  concussions, with Cross, the late Pro Bowl defensive back and groundbreaking broadcaster getting remembered mostly as one of the game's great gentlemen.
But his brain took such a pounding during nine seasons with the pre-Super Bowl era Eagles and Rams that a postmortem analysis released Tuesday by researchers at  Boston University  indicated Stage 4 CTE (chronic traumatic encephalopathy), the most debilitating form of dysfunction related to repeated blows to the head.
"Toward the end," his wife, Liz, told  The Associated Press  in  Philadelphia, "he saw things that weren't there."
Meanwhile, the  NFL's  continually suspect ability to see things that are very much evident regarding concussions was absorbing another round of introspection in Indianapolis, where league officials in conjunction with their medical advisers seemed resolved to "get the head further out of the game."
Concussions were up in 2022, particularly among quarterbacks, the league's marquee position, so the Rams have proposed that roughing the passer calls be reviewable by replay,  Judy Battista  of  NFL  Network reported. The distinction at issue, she explained, is the sling vs. the slam. Slamming the quarterback to the ground should be penalized, the Competition Committee feels, but merely slinging him is a natural part of the play.
There is reportedly little stomach among the owners for expanding replay into that particular area, but you can expect further action to protect the head, including the increased use of Guardian Caps in practice. Guardian Caps are those soft-shell layers added to the standard hard helmets and are designed to lessen impact by as much as 33%, with the added benefit of making everyone look like The Great Gazoo. (Google it.)
A 33% reduction in wallop sounds good, but the force generated by many NFL collisions, even going all the way back to Cross' era, has proven deadly to too many, including Steelers Mike Webster, Justin Strzelczyk and Terry Long.
Cross told his wife that he was once hit so hard he nearly swallowed his tongue, but he was fortunate that CTE symptoms didn't present until much later in life.
In his 70s, Cross approached long-time Philadelphia columnist and  NFL  Hall of Famer  Ray Didinger about doing a book on his life. In addition to a distinguished career with NFL Films, Didinger is a playwright, having created "Tommy and Me," about Eagles receiver  Tommy McDonald, another Hall of Famer.
"In our conversation, Irv said he was dealing with health issues, which sounded a lot like CTE," Didinger told me this week. "Like many former players, he had mixed emotions about his career. He loved playing but said something that stuck with me. He said, 'We were like hamburger being ground up.' It was a powerful statement and, sadly, very true. I saw it up close with Tommy in his later years. Tommy had Stage 4 CTE. It was awful."
Cross died in February 2021 and had long since isolated himself in paranoia. His wife said he was afraid he'd be asked a question and wouldn't know the answer. He suffered from depression, mood swings, memory loss, a horrid end to a life of virtually uninterrupted accomplishment.
Showed early promise
One of 15 children his parents raised in  Hammond, Ind., Cross excelled in football and track at  Northwestern. He was drafted by the defending NFL champion Eagles in 1961, wound up starting at cornerback before the season ended and played through 1969.
Soon after his playing days ended, he became the first African American man to work full-time as a national football analyst, then joined Brent Musberger, Phyllis George and Jimmy "The Greek" Snyder on a pregame show that was the prototype for every such iteration that followed. In his post-broadcast life, he became a college athletic director.
That's the kind of curriculum vitae that should preclude any lingering "Paper Head" aspersion, but Cross' head injuries were more than a decades-old memory. Though he played in an era when players were rarely sidelined by concussions (they'd merely been "dinged" or "had their bell rung" in the football parlance of the day), Cross missed significant time with his concussions.
Didinger vividly remembers reading about one late-season Eagles practice when snow began to fall. One of Cross' teammates yelled, "Cross, put your helmet on, what if one of these snowflakes hits you in the head?'" Everyone laughed, according to the story, including Cross.
No one's laughing anymore, but that doesn't mean the league is where it needs to be on concussions.
"I do think there's more education about the risks of football and I do think there's more awareness of concussion management, but I still think we're way, way behind where we should be," Dr. Ann McKee, a professor of neurology and pathology at BU, said in the AP story. "We need to educate young athletes that this is the risk that they are undertaking. We need to educate coaches to keep head trauma out of the game. We need to do more managing of athletes by monitoring them better. I still think there's a very cavalier attitude toward CTE. There's a lot of denial."