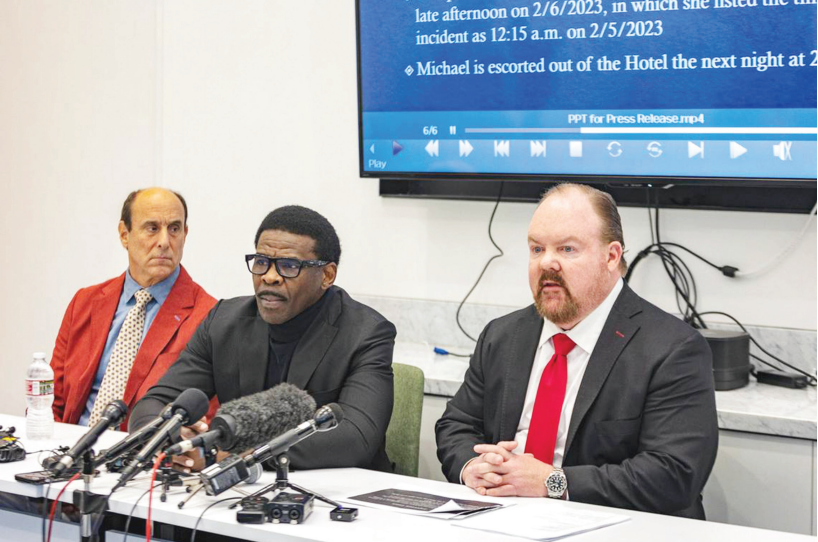 DALLAS — Michael Irvin released a surveillance video Tuesday, March 14 that captures a Feb. 5 conversation between the former Cowboys wide receiver and a female hotel staffer in Phoenix, footage that Irvin and his attorney hope can help restore his public image during an ongoing $100 million lawsuit against Marriott.
The conversation, which lasted about one minute and 45 seconds at the Renaissance Phoenix Downtown hotel, was played for reporters during a news conference Tuesday held inside an Oak Lawn office building. The Dallas Morning News obtained a digital copy of the encounter. No audio is included, so it cannot be determined what exactly was said.
According to a Marriott court filing last Friday, March 10, she accuses Irvin of making a lewd comment, touching her arm without consent, and saying that he would find her later in her work week. Specifically, per Marriott, a drunken Irvin allegedly asked if she knew anything about having a "big Black man inside of [her]."
"I don't speak like that," Irvin said Tuesday. "I've never spoken like that. I totally deny saying that. I totally deny saying that."
Irvin also rebuffed the notion he posed a danger to the woman because of fear he'd find her later in the week. Irvin was forced to change hotels the next evening; Marriott said in its filing it was the NFL who determined, upon interviewing the woman and reviewing the video, Irvin should no longer stay at the property.
Irvin's appearances on NFL Network and ESPN during Super Bowl week were canceled.
Even with the video, much about the encounter leaves room for interpretation.
Last week, Marriott offered an account in which Irvin flagged down the female employee and initiated the conversation. On Tuesday, Irvin's lead attorney Levi McCathern said the staffer was the person who initiated, her walking path making "no sense if she is not trying to intercept" Irvin.
In the video, upon Irvin's return from outdoors where he took photographs with three men, she walks toward Irvin and turns left away from him. At this moment, she enters an area where a pole-like structure obstructs the camera's view. Irvin careens his walking path toward her as she walks by, seemingly supporting the Marriott account. But without audio, it is difficult to form a conclusion on who began the conversation.
Physical contact between Irvin and the woman appears light — touch between Irvin and the woman is limited to two handshakes and Irvin twice reaching out to touch her arm or hand.
Based on the video, he appears to initiate the aforementioned physical contact.
At one point, 2 minutes and 9 seconds into the obtained video, Irvin takes a short step forward with his right foot and touches her left arm while making a comment. She takes a step back, first with her left foot and then right foot. She raises her hands in front of her chest and creates a gesture in which her hands fan apart from each other. Irvin laughs and, while falling away from her, briefly touches her right hand or lower right arm with his right hand.
The woman slides her right arm away from Irvin, rocks backward and clasps her hands together behind her back. She then returns her hands to the front of her chest and repeats the gesture in which her hands fan apart.
This entire sequence, beginning with Irvin's short step forward, lasts 11 seconds. It appears to be the moment the woman alleges Irvin made the lewd comment and followed it up by grabbing her hand, saying he was "sorry if he brought up bad memories" for her, according to Marriott's filing last week. The filing also detailed the woman stepping back following the lewd statement.
Co-workers join interaction
Irvin's legal team also focused on her male coworkers.
One appears agitated, clapping his hands when he sees Irvin and the woman begin speaking. He briefly walks toward them, stops and places his hands on his hips. He appears to say something to a second male coworker, who then walks behind Irvin and the woman as though monitoring their conversation. The two coworkers loom uncomfortably at their respective positions before walking away. They reconvene and briefly talk between themselves in the bar area.
Irvin extends his right arm to shake hands with the woman. She completes the handshake.
Seconds later, a third male coworker walks toward Irvin and the woman, and they take notice of him. The second male coworker joins the third, as the female staffer kicks her left leg and motions her left arm toward them. She walks away from Irvin, who briefly watches her as she does. He speaks to the second and third male coworker, briefly delivering slaps to his own face.
Marriott shared its account of this sequence last week.
"During this interaction, two other Hotel employees noticed that the Victim had a look of concern on her face and began moving toward Irvin and the Victim, prompting Irvin to state that 'security' had noticed him and extend his hand for another handshake," Marriott said. "Seeing that other Hotel employees were in the area and wanting the interaction to end, the Victim returned Irvin's handshake. Irvin then stated that he would come back to find her sometime that week when she was working.
"The Victim then left the interaction to assist another employee who was waiting for her in the Dust Cutter with Irvin leering at her as she walked away.
Last Friday, Irvin and his legal team obtained a physical copy of the video for the first time.
"I'm so thankful for this video," Irvin said, "because without it, I don't know where this would have gone."