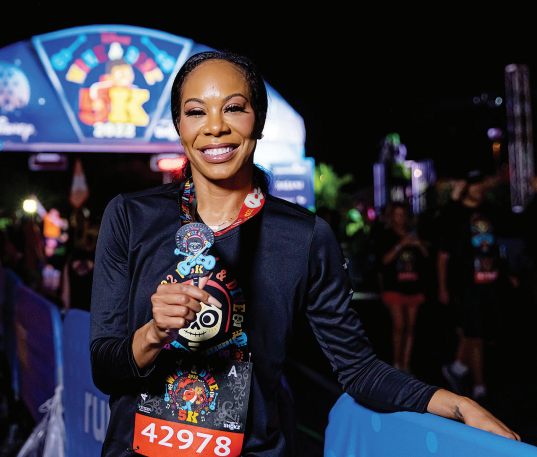 "Real Housewives of Atlanta's" Sanya Richards-Ross recently reminded everyone she is more than just a reality star. The Olympic track and field champion participated in the  Disney Wine & Dine Half Marathon Weekend.
Richards-Ross, 37, ran the 5K during the marathon on Nov. 4 at Walt Disney World Resort.  
"I obviously am a sprinter and used to running short races. But to have this be my first 5K run was really special," Richards- Ross tells RoyalTee about participating in the marathon. "The atmosphere was electric, the people were so inspiring, and being able to run through Epcot to see the characters, the entertainment was just absolutely incredible."
Passion for running
Running is near and dear to Richards-Ross's heart and resume. The retired Jamaican American has won four gold medals in the 400-meter and 4×400-meter relay at three Olympic Games from 2004 to 2012, making her one of the sport's most decorated female athletes.
Richards-Ross went on to share how running has been her place of peace and where she has found most of her inspiration and feels "the closest to God." 
"Whenever I can share that experience with other people, or hopefully inspire other people to find running, that just means everything," she says. "Running is not just great for your mental health, it's also one of the best things you can do for your body. When you're running, every single muscle is working." 
'Never too early'
And when it comes to chasing dreams, the Olympian tells young people it's never too early to zone in on your passion and give it 100%. 
"A lot of times I'm around kids, especially middle school or high school, its  'oh, next year, I'll start doing this, next year I'll start doing that,'" she says.
"But what I learned through my own experiences is the sooner you can get serious about what you're passionate about, the better. Everything becomes a habit and you just become a better human being."
In addition to her Olympic accolades, the mom and wife has several businesses under her belt, including being the founder of the parenting blog, "MommiNation" and her apparel line, Bop Bop Bop. She is also the author of three books:  "Chasing Grace: What the Quarter Mile Has Taught Me about God and Life," her autobiography, "Run with Me: The Story of a U.S. Olympic Champion,"  and  "Right on Track: Run, Race, Believe." 
Disney's Wine & Dine is the first of four race weekends during the 2022- 23  runDisney season. The next race will take place in January, which will be the 30th anniversary of the Walt Disney World Marathon Weekend This will be followed by the 15th anniversary of the Disney Princess Half Marathon Weekend from Feb. 23rd to 26th, and the  runDisney Springtime Surprise Weekend from April 13th to 16th.  
This article was originally published on royalteemagazine.com.