The tennis star is being sued by the family of Jerome Barson, 78, who died in the accident.
BY TONYA ALANEZ
SUN SENTINEL/TNS
Police announced on Friday, July 7, that there was a third car involved in Venus Williams' deadly crash last month near her Palm Beach Gardens home.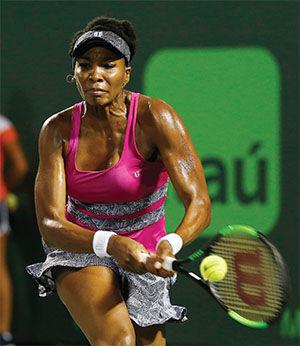 A Nissan Altima made a left turn in front of Williams, causing her to stop in the middle of a busy intersection.
Seconds later Williams' SUV was T-boned in the intersection of Northlake Boulevard and BallenIsles Drive by a Hyundai. The passenger in the Hyundai died two weeks later.
New video
After initially releasing a police report that said the tennis star was at fault in the June 9 crash that killed Jerome Barson, 78, Palm Beach Gardens police on July 7 released new video footage of the crash, and said Williams "lawfully entered" the intersection.
"It has been determined the vehicle driven by Venus Williams lawfully entered the intersection on a circular green traffic signal," Major Paul Rogers said in a statement.
Williams, 37, has been in London competing in the Wimbledon tennis tournament.
No drugs or alcohol
Barson's family has filed a wrongful death lawsuit against Williams, who was not injured in the collision.
A crash report said neither drugs nor alcohol were involved and both drivers claimed to have a green light.
The crash happened at 1:13 p.m. near the gated entrance to the BallenIsles Community where Williams lives.
Palm Beach Gardens police explained that the new footage showed Williams get cut off by a left-turning Nissan Altima as Williams passed through the intersection.
Probe continues
Williams had to stop in the intersection to prevent crashing into the Nissan, police said. Williams then continued on her northbound path.
At the same time, the Barsons in their Hyundai approached the intersection from the west. Linda Barson initially had a red light but it cycled to green and she proceeded into the intersection where she hit Williams.
"This updated information, based upon new evidence, is still under investigation," Rogers said. Police declined to answer any questions about the case.
Attorney responds
"The video released by the Palm Beach Gardens Police Department continues to support the fact that Ms. Williams remained in the intersection at a red light, violating the Barson's right of way," the family's attorney, Michael Steinger, said in a statement the evening of July 8.
"There is nothing that disputes Ms. Williams was in the intersection on a red light, and the witnesses clearly confirm the Barsons had a green light and lawfully entered the intersection."
Williams 'devastated'
After a court hearing for the wrongful death case on July 7 in Palm Beach Circuit Court, Williams' attorney said the tennis star is "devastated" about the crash.
The attorney, Malcolm Cunningham, said Barson's death was an "unfortunate accident" and he does not anticipate his client would face criminal charges. He said he had not yet seen the new surveillance video.
"Venus Williams entered that intersection on a green light," Cunningham said. "And she had the right by state law to get through the intersection."