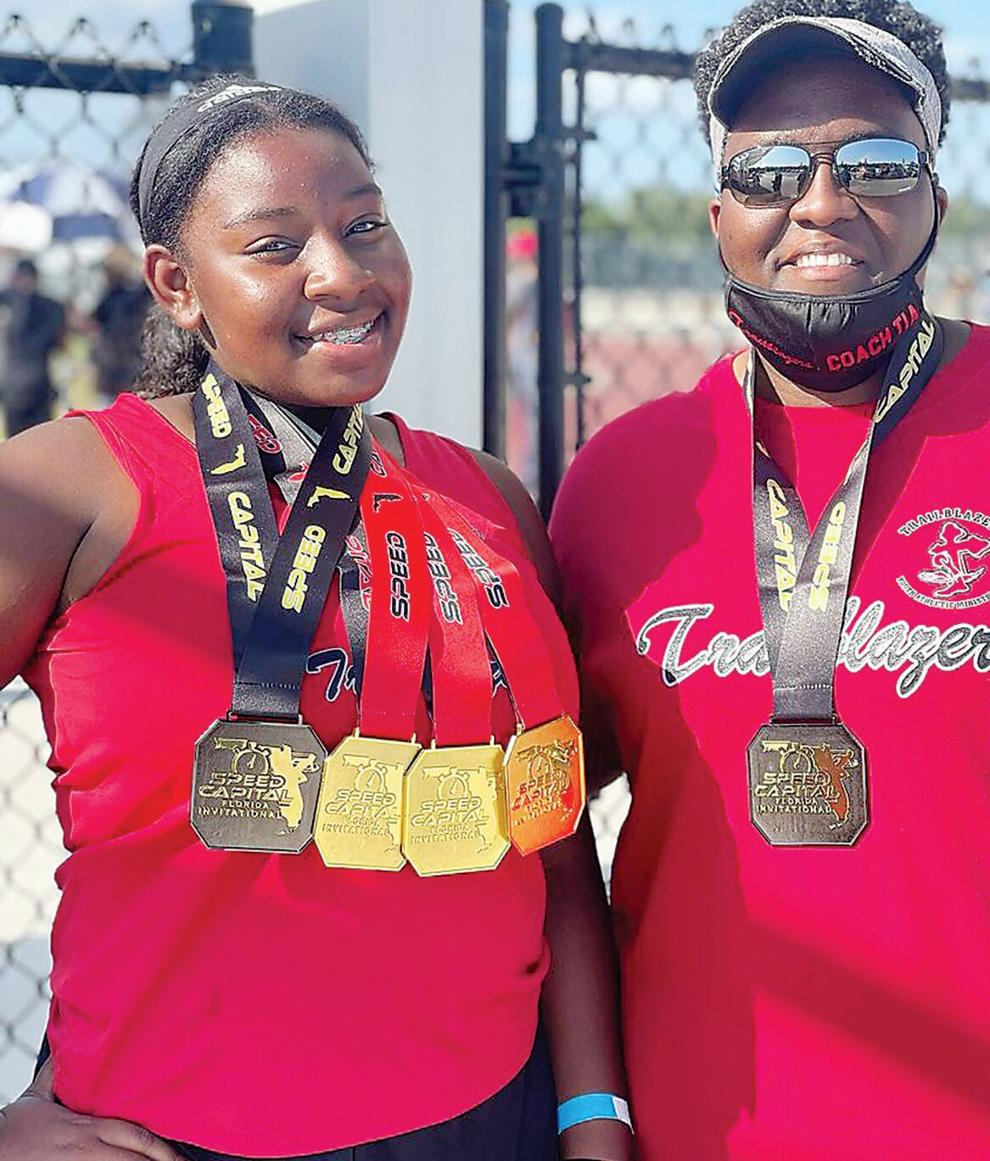 The end of the track and field games in the 2020 Summer Olympics in Tokyo left us names such as Jasmine Camacho-Quinn, Gabrielle Thomas and Elaine Thompson-Herah to remember. All of whom are young Black women who broke records and created their line in history.
In 2024, J'Nia Simpson hopes to contribute to the legacy. The 13-year-old Tampa native runs with the Tampa Trailblazers Youth Athletic Ministry.
She holds national records in the shot put, discus and javelin. When she was only 11 years old, she broke the national record for shot put at the AAU Club Nationals.
"It feels great because I worked hard during my season to be able to break a 4-year-old national record by 3 feet in shot put at AAU Club Nationals," Simpson told the Florida Courier about her re- cent accomplishments.
Undefeated season
In August, Simpson competed in the AAU Jr. Olympics in Houston, where she placed first in discus and shotput and went undefeated throughout her season.
She said it was "extremely hot,'' but an exciting time in Houston.
"There were also many people watching me compete and I did my best for the season in shot put and discus," Simpson said. "I was so happy to get first in shot put and first in discus and winning seemed to be easy and helped to complete an undefeated season in both events."
She added, "My coach told me that obtaining more than one gold medal at Jr. Olympics is not easy, but to me it was not hard."
Her coach is Tia Peoples of Trailblazers Youth Athletic Ministry, whom she has been training with for the past four years. A former athlete herself, Peoples said Simpson's hard work and dedication inspires her.
"She comes to practice daily, hardly ever misses a practice, puts in the work, and delivers at her track meets," People said. "When she delivers, she does it in a big way and this in turn makes me work harder to get more out of her. What coach doesn't like to see their athletes do well and win?"
Hard work ahead
But the teen athlete is just get- ting warmed up. J'Nia has Olympic aspirations. She watched the track and field Tokyo games over the summer and was left inspired, specifically by Olympian Raven Saunders. The 25-year-old University of Mississippi graduate took the silver medal in shot put.
A family affair
Track and field is a family affair for J'Nia. Her mother, Brenda Simpson, did shotput and discus, in high school, which inspired J'Nia to pick up her shot-put and discus and "continue that tradition," she said. Both Simpson and J'Nia's father, Jamar Simpson, work in management. She credits her parents for being hardworking.
When J'Nia is not at the track, she cheers for the Tampa Jaguars Youth Football Club. The eighth grader attends Ferrell Girls Preparatory Academy in Tampa.
In the next five years, Simpson aspires to be a student athlete with a scholarship, preferably at USF. Her brother, Timarcus Simpson, plays football there.
"I try to advise them [her student athletes] that anything worth having is going to take hard work," said Peoples, who is also an USF alum. "And though it's not easy, don't give up because the end result will be satisfying simply because you put in the work.''